Here are the Fortnite patch notes for the Christmas Winterfest 2021 update that was released today.
Players were happy when Fortnite chapter 3 season 1 launched due to the new map with three different biomes and new features including the sliding and camping mechanics. However, players were still counting the days to the Fortnite Christmas event update for 2021.
Epic Games recently announced the Christmas Fortnite update for 2021 with a blog post along with a trailer. The trailer featured Tom Holland's Spider-Man and Zendaya's MJ. Here's the trailer if you haven't seen it yet:
There's no download required for today's new Fortnite update on December 16th, 2021 as they were already added in the update that was released on Tuesday, v19.01. We have all the information you need including the patch notes for the Fortnite Winterfest Christmas update 2021.
December 16 2021 Fortnite Christmas Winterfest Update
The Winterfest Lodge has reopened where you'll find Sgt. Winter. Each day, players can unwrap a new present which include two skins, two pickaxes, two wraps, a glider, contrail, emote, lobby track, loading screen, emoticon, spray and banner.
The two free skins are Krisabelle and Polar Peely. The lodge will be accessible until the Christmas event ends on January 6th at 9 AM ET, leaving you plenty of time to unwrap all the presents.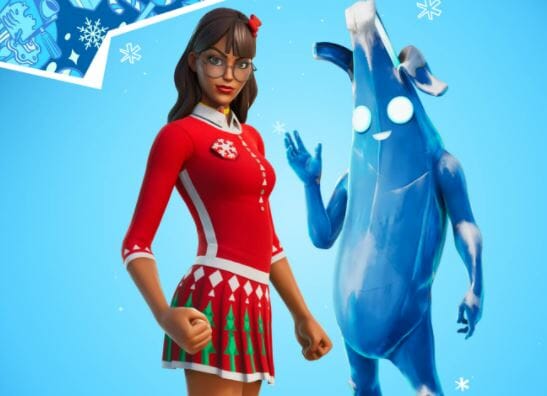 There's also a new quest/challenge that will unlock each day at 9 AM ET. Once completed, each challenge will provide players with 18,000 chapter 3 season 1 XP. Complete seven challenges and you'll unlock the Snowmando Board Glider and the Ffrosty Back Bling once you complete ten.
Active Fortnite Crew members will also receive the Golden Look Board Glider as soon as you log in to Fortnite. Along with the free cosmetics, we have some returning items.
Patch Notes
The Chiller Grenades have been unvaulted until the Christmas event ends along with the Snowball Launchers and Holiday Presents. The Sneaky Snowman also makes a return and they'll all be needed to complete the upcoming challenges.