A Gangnam Fortnite emote is coming to the item shop soon… Oppan Gangnam Style!
Epic Games have collaborated with a number of artists, streamers, and companies to bring exclusive Fortnite skins to the game. We've had Marvel and DC skins and we've seen a number of TikTok dances make their way into the world of Fortnite as an emote.
We've also had other emotes make their way into the game, but have resulted in Epic Games facing lawsuits. The "Phone It In", the "Running Man" and just two of the emotes that have been contested in court.
However, Epic Games have won the lawsuits brought forward and still releasing new, trendy Fortnite emotes. However, some of their cosmetics have been released long after a trend has ended including for today's new Fortnite emote, Gangnam Style.
Gangnam Style Fortnite Emote
Update: Now available in the shop. If you'd like to support us, use code FNINSIDER in the bottom right of the item shop #EpicPartner
Around an hour ago, the Fortnite Korea Twitter page posted a clip of Fortnite characters doing the Gangnam style emote on top of the largest building at Salty Towers. There was no information regarding whether this would be only for players in Korea or for everyone.
Thirty minutes later, data-miners posted that the Gangnam Style Fortnite emote was had been decrypted and posted the featured image which we've included below.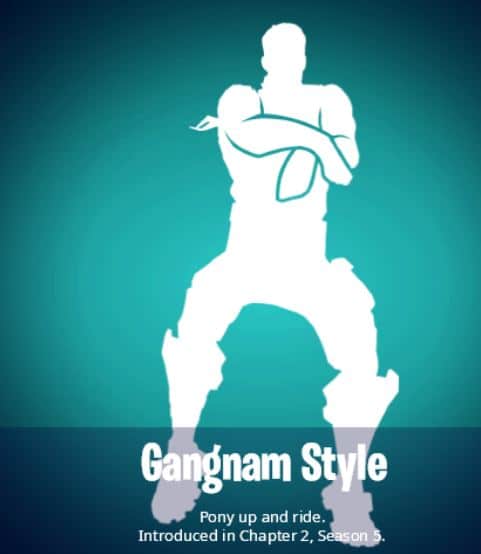 There's no information as to when the Fortnite Gangnam Style emote will be available to purchase, but due to the fact the emote has been decrypted just under two hours before the Fortnite Item Shop resets, we're going to take a stab in the dark and say it'll be available to purchase in the item shop for the 28th / 29th January 2021.
Update: The Gangnam Style dance is now available, here it is in all it's glory:
Add a little Gangnam Style to your life.

Dance on over to the Item Shop and grab the Emote now! pic.twitter.com/uao10oQmgF

— Fortnite (@FortniteGame) January 29, 2021
As with all leaks, there's no information regarding how much the emote will cost, but we'd assume it would be either 500 or 800 V-Bucks. Let us know in the comments section if you'll be purchasing the Gangnam style emote.