Epic Games have released a Fortnite content update today which introduced the Firefly Jar which acts as a Molotov.
Epic launched Fortnite season 3 last week which brought a new Battle Pass, new features including loot sharks, and a number of leaks including upcoming items and weapons including the flare gun.
When the servers were down for maintenance, data-miners leaked a number of files including upcoming skins along with a brand new item called the firefly jar. These new items hinted that Epic would be introducing content updates again in between major Fortnite updates like they had done in chapter 2 to keep players entertained.
The firefly jars have now been added to Fortnite Battle Royale and here's everything you need to know.
Fortnite Update Patch Notes
As usual, there are no patch notes for today's update, but players needed to download a new patch which Epic state is a maintenance patch update. However, data-miners noticed that the strings for the firefly jar were updated prior to their release in Battle Royale.
Firefly Jar in Fortnite
The Firefly jar was leaked by data-miners from the v13.00 Fortnite update. Players can now find them in-game and here's everything you need to know.
The Firefly Jar is a rare item with a max stack size of 3. It's obviously a throwable item that will deal 40 damage to a player if they're hit with it. Players can also use these to start fires on different objects including trees.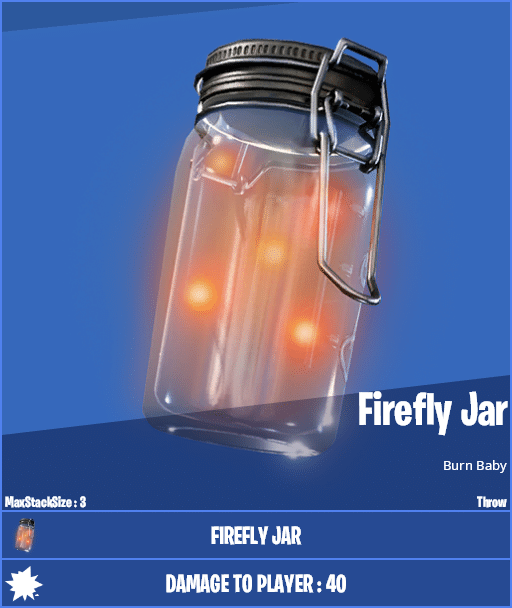 How to get and use a firefly jar
It appears as though players will need to catch a firefly in order to get this item. Fireflies will be found around the map, and you simply interact with them when you see one in flying in the air.
Once you've caught/collected a firefly, you'll see the item in your inventory. You can then throw it at a player or on a tree. The fire from this item will spread and will deal damage to you or your opponent if you step in it.
Here's a look at the new throwable item:
Here's a look at how it sets fire to trees:
The Firefly Jar item is now available for everybody to use in #Fortnite right now. pic.twitter.com/KU8QYLVMiT

— Fortnite News (@Guille_GAG) June 23, 2020