Here are the official patch notes for today's new Fortnite update, 19.10. The update features the return of Tilted Towers and a new Klombos dinosaur.
We finally have a new Fortnite update after going more than a month between the last previous patch that was released, 19.01. Today's new 19.10 patch sees the return of Tilted Towers, something which Epic Games teased yesterday.
We also have the return of an item that was vaulted along with a new dinosaur added to the map and some new items. Here is everything mention in the Tilted Towers Fortnite update patch notes.
Fortnite Update Tilted Towers Returns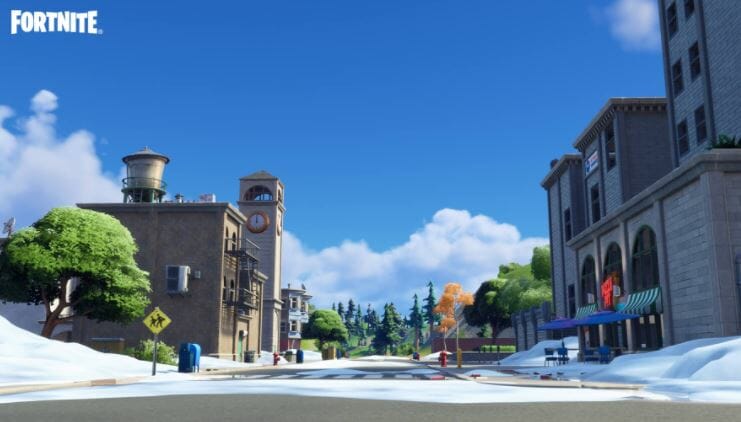 Players have been eagerly awaiting the return of the Fortnite Tilted Towers update since the launch of the chapter when data-miners leaked that it would be returning at some point during the current season.
Now that the snow and ice has melted in middle area of the map, Tilted Towers has emerged. It looks pretty much identical to how  it looked in chapter 3. The only difference we can see is the basketball court is now a football (soccer) pitch.
Grenade Launcher Unvaulted
The Grenade Launcher returns from the vault with a minor adjustment. Projectiles will now explode after the first bounce of the rockets they shoot out and will fire more directly at your target. They can be found in rare chests, supply drops, and sharks.
Klomberries and Klombos
The Buttercake Klombos Fortnite dinosaur has been added to the game after it was originally teased in the chapter 3 season 1 overview trailer. You can feed them the new Klomberries item, which will make them spout out items from their blowhole.
You can also use the blowhole to get out of tricky situations or be used as a form of rotation. Klombos are friendly and will only attack if you've attacked them. However, they can be calmed by feeding them Klomberries.
Bug Fixes
Here's the list of major bug fixes in the 19.10 Fortnite Tilted Towers update:
Fixed an issue involving Spider-Man's Web-Shooters getting interrupted after players swung onto web bouncers.
Fixed an issue involving players encountering a "Network Connection Lost" error when trying to join a match as a spectator. With this issue fixed, the option to join a match as a spectator has been re-enabled.
Fixed an issue that caused us to disable healing from resting in a Tent. Healing from resting in a Tent is now re-enabled.
Fixed an issue involving campfires sometimes not healing players.
Fixed an issue that caused us to disable DLSS for DirectX 11. DLSS for DirectX 11 is now re-enabled.
Fixed an issue involving Daily Quests not being visible in the Quests tab after players returned from a non-core mode.