Epic Games have released a Fortnite update today to address stability issues.
Epic Games released the v11.31 Fortnite update yesterday which updated the Winterfest files in order for the Christmas event to go live. The event was originally scheduled for December 17th, but Epic delayed the start of the event without communicating with the player base.
Last week, Epic released a minor Fortnite update to fix the stability issues the game has been plagued with for the the last few weeks. The update also removed the DirectX 12 beta, although Epic did state that it will return next year once they work on improvements.
Fortnite Update Today
It appears as though last weeks stability patch update didn't work as Epic tweeted out on the Fortnite Status Twitter account that they've released the v11.31.1 Fortnite update on PC and Android in order to address stability and other issues. This patch requires a download.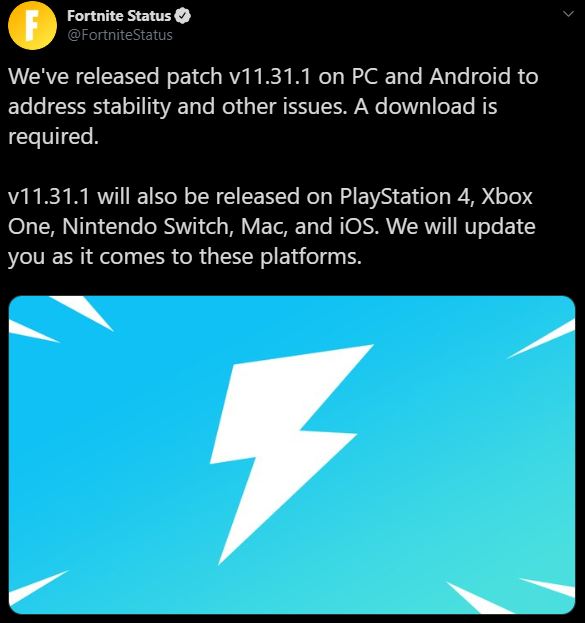 Five hours ago, the update was then pushed out on Xbox One, and just recently, Epic announced that the update is now available on PlayStation 4 and Mac. As with the other platforms, a download is required for this update.
There's been no update pushed out to the Nintendo Switch or iOS just yet, but we'll update this post as soon as one has been released.
The download size on PC is 97.7MB and 365.4MB on PS4. These sizes may vary in different regions.
It's likely the other issues that Epic have or are looking to address in this update are for the Battle Lab feature that was added in yesterday's update. As with any new Fortnite feature that's released, it was quickly disabled.
It was re-enabled yesterday, but the Bot Grenades are still temporarily disabled. There's a few other issues on the Trello board including Sniper Rifle crosshairs disappearing when falling into a hideout, the UI notification missing when joining a party, POI names not appearing in replay, players respawning in Team Rumble with just 1 HP, and the several cosmetics having visual issues.