There's a brand new Fortnite update today, v14.50. Here's everything you need to know including the time of the update and when the Fortnite servers will go down.
Epic Games have dropped their chapter 1 Fortnite schedule of releasing four updates in a month. A major patch update would be followed by a content update that would introduce either a weapon or item to the game. Patch updates would have considerable map changes along with adding a new feature or item.
The first couple of chapters in Fortnite chapter 2 were lacking updates, but season 3 was the best season in the current chapter. This season however, Epic have stuck to a bi-weekly update schedule, but at the start of the season they also had several map changes without the need for an update.
We've also had some large Fortnite updates which players described as good as a brand new Fortnite season. We have a brand new Fortnite update today which Epic just announced and here's everything you need to know.
Fortnite Servers Downtime & Status
Epic Games tweeted on the official Fortnite status account that the Fortnite servers will go down for scheduled maintenance at 4 AM ET (9 AM UTC). There was no information regarding how long the servers will be down for, but as this is a major Fortnite update, it's safe to assume they'll likely be down for a couple of hours at least.
Here's a look at the tweet from the Fortnite status Twitter account: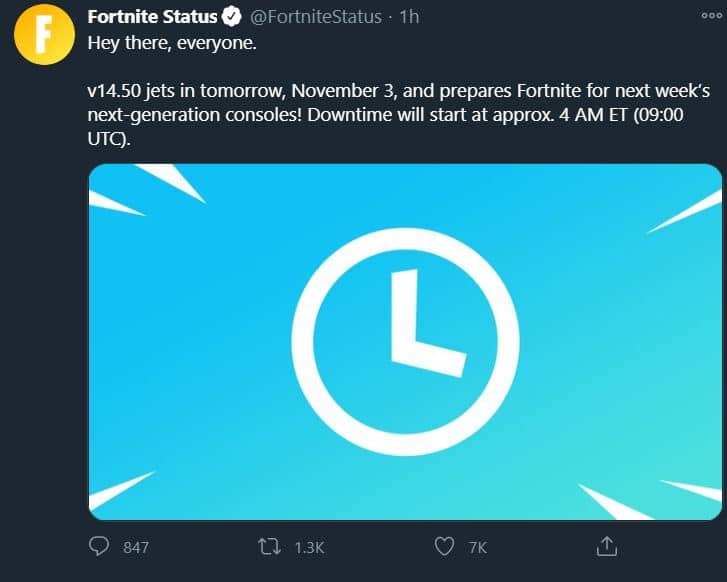 What will be new in Today's Fortnite Update?
It seems Epic Games have provided a hint in the tweet above in regards to what players can expect to be added in today's Fortnite update. The tweet mentions that v14.50 "jets" in, which seems to suggest a recent Fortnite leak is correct.
Iron Man Jet Pack Fortnite
A leak from the last major Fortnite update, v14.40, suggested that an Iron Man jet pack would be added to the game. Data-miners stated that there were sound files added and the name of the files was Iron Mans jetpack.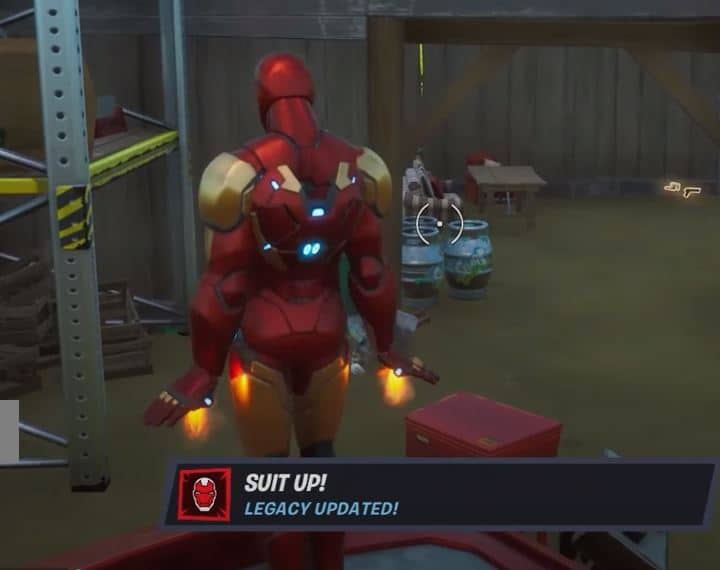 We've seen jetpacks in Fortnite in the past, and with Iron Man heavily featuring this season with his own large POI and his own hidden laboratory, it's not surprise we could be getting an Iron Man Jet Pack.
We'll have to wait and see if the Iron Man jetpack is added, but based on the hint provided in the tweet, it looks like it'll be added to the loot pool. Here's the sound files for the jetpack that was leaked by data-miners.
These sounds were added this update and they're related to an iron man jet pack gadget which has a loot pool id, i have no more info other than this. pic.twitter.com/4kE6t66owX

— HYPEX (@HYPEX) October 28, 2020
Apart from the above item, we don't know what else will be added in today's update. We'll know more when Epic Games release the Fortnite update highlights email to everyone in the support-a-creator program. We'll cover what's in the email in a separate post.
Fortnite Leaks
As this is a major update, we can expect new leaks to emerge including new Fortnite skins and other cosmetics. There's a chance Epic could also add some overtime challenges, but we'll have to wait and see.
Be sure to head back to the home page to keep up to date with all the latest leaks and new from the update. Alternatively, turn on website notifications so you're alerted as soon as a new post goes live.