Epic Games have announced a brand new Fortnite update that'll release today, v15.21.
Epic released the last Fortnite update on Wednesday, 13th January. It introduced the Lever Action Shotgun along with an exotic weapon available to purchase from the new NPC that was added.
Since Fortnite chapter 2 launched, Epic have stuck to a biweekly update schedule. In chapter 1, Epic released a major patch update along with a content update the following week. However, Epic Games have just announced we'll be getting a new Fortnite update today, a week after the last update.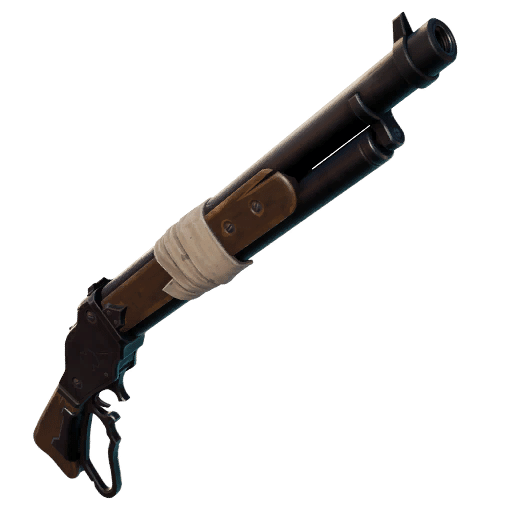 Here's everything we know so far about the v15.21 update including the time of the update, what to expect, and more.
v15.21 Fortnite Update Status – Time & Server Downtime
The Fortnite status Twitter account announced that the servers will go down for scheduled maintenance at 4 AM ET (9 AM UTC). There's never any information released regarding how long the Fortnite servers will be down for, but we'd expect them to be down for at least an hour. We'll update this article when the Fortnite servers are back up.
Here's the official tweet for today's Fortnite update:
New Mythic Weapon & Boss Character
We don't have many Fortnite season 5 mythic weapons, but we'll be getting a new one in v15.21. We'll also be getting a new boss which will likely be Predator, but we'll have to wait until tomorrow to find out.
We don't usually see official information regarding what to expect in the next Fortnite update until Epic send out an email to everyone in the support-a-creator program. However, they decided to release some information regarding v15.21 in a reply to the tweet included above. Here's the tweet with a taster of what to expect in the new update: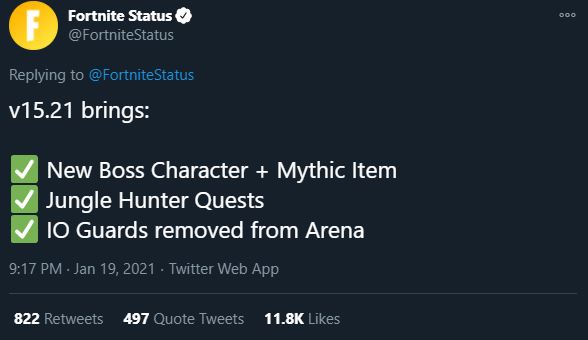 Fortnite Leaks
Although this isn't going to be a huge update, we could still see skins and other leaks come from the update. There weren't that many skins added in last weeks update, so we could see new skins added in this update. As always, we'll be covering all of the Fortnite leaks and news from the v15.21 update, so be sure to check out our coverage over on the homepage.