We finally have a new Fortnite update today (July 20th), v17.20. Here's all you need to know about the upcoming patch.
Epic Games employees have been on a break for the past few weeks which results in no major Fortnite update being release since v17.10 which released on June 21st. However, we have had some new content during that time with Epic release two updates which they call "hotfixes" but were known as content updates previous.
In these updates, Epic Games added some new alien tech including the alien nanites. We've also has a new NPC character added, along with some changes to Holly Hedges. The location is now called Holly Hatchery and is turning into an alien hotspot with alien eggs now scattered around the west side of the location with the trespassers guarding them.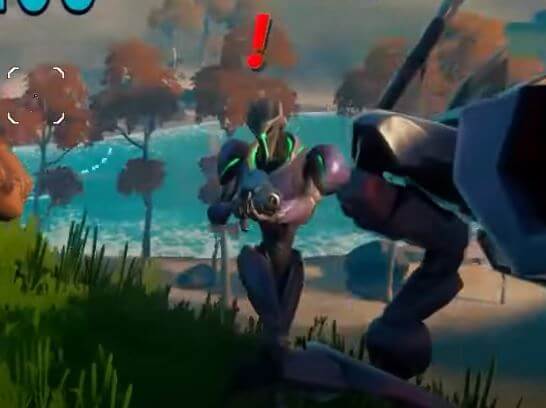 Epic have now announced that a new Fortnite update, v17.20, will be released soon. Here's all the information we know so far for 17.20.
Fortnite Update Server Downtime
As usual, the new update was announced on the official Fortnite Status Twitter account. The update will go live earlier than the usual time and services will be disabled at 2:30 AM ET (6:30 AM UTC). The Arena playlist will be disabled today at 10 PM ET (2 AM UTC) and will be available once downtime for 17.20 has ended.
As usual, there's no information regarding how long the Fortnite servers will be down for, but we'll keep you updated with the latest so be sure to check back.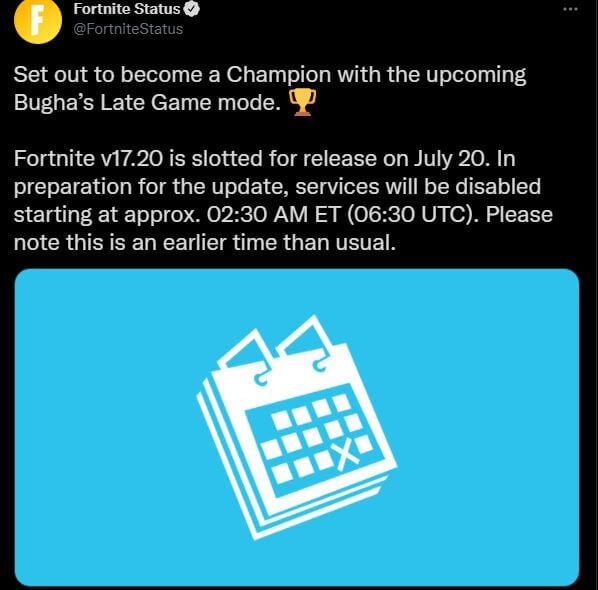 Fortnite Update Patch Notes 17.20
We'd always get official Fortnite patch notes for every major update in chapter 1. Epic decided not to release patch notes in this chapter, but it seems like that's changed with the release of chapter 2 season 7. We had official patch notes for the v17.10 update along with the two hot fix updates in the past couple of weeks, so we'll likely get 17.20 Fortnite patch notes.
We've seen Epic send emails to content creators to highlight what's new in the upcoming update, but they no longer do this. We've also seen Epic mentions new features or changes in the tweet that announces the update but again, Epic haven't been doing that in season 7. We'll have to wait until the official v17.20 Fortnite update patch notes are posted, but we do know Bugha's late game mode will be coming.
Leaks
As with all major Fortnite updates, expect data-miners to leak the new files that are added in Fortnite 17.20. We'll see the weekly challenges leaked along with upcoming cosmetics and items. We'll be covering all of the leaks as and when they're posted by data-miners.