We have a new Fortnite update coming today (July 27 2021), v17.21. Here's everything you need to know.
We hadn't had a new major Fortnite update in a month, but Epic Games released the v17.20 update last week on Tuesday. Unfortunately, there wasn't any new content but a new preferred items slots option was added to the game.
Although we had the week 8 challenges added in last weeks update, Epic Games have announced that there will be a new Fortnite update today (July 27, 2021). Here's everything you need to know about the update including when the Fortnite servers will go down for maintenance.
Fortnite Update Server Downtime
The official Fortnite status Twitter account announced the v17.21 Fortnite update. The servers will go down at approximately 3:30 AM ET (7:30 AM UTC). We're not sure how long the Fortnite servers will be down for, but expect them to be down for at least an hour.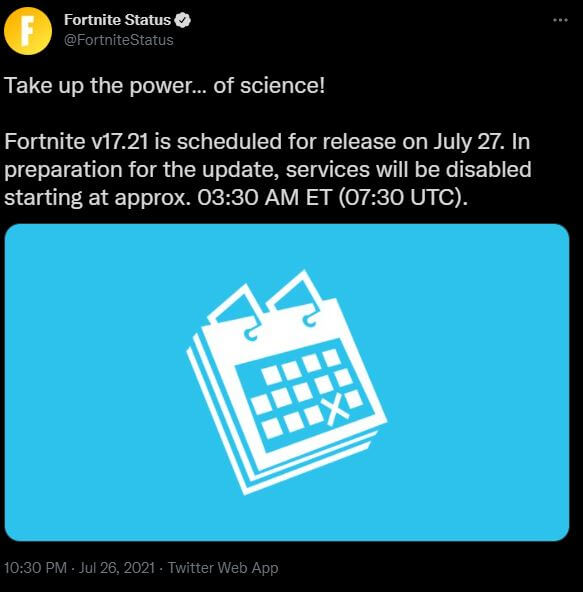 Patch Notes
Whilst there isn't any information in regards to what to expect from the new Fortnite update, Epic Games have been posting official Fortnite Patch Notes this season, something which they haven't done since the start of chapter 2.
Once the Fortnite servers are back up, Epic will likely publish the patch notes on the official website. However, they tend to miss out some changes to loot among other things, but we'll cover all the changes in our own 17.21 Fortnite update.
Fortnite Leaks
There's a chance we won't get many Fortnite leaks from v17.21. However, if there are any major leaks that are posted by data-miners, we'll be sure to cover them all. Data-miners believe we could get more files for the upcoming Fortnite chapter 2 season 7 event, but we'll have to wait and see.
Be sure to check the home page to see all our coverage on the v17.21 update or turn on website notifications so you're alerted as soon as we release a new article.