Here's everything you need to know about the v17.30 Fortnite update that's releasing today (August 3, 2021).
We've only had two new major Fortnite updates so far this season. We've also had two content updates along with the v17.21 update that released last week which introduced a brand new weapon to the game.
We know that we'll be getting an Ariana Grande Fortnite concert now that it's officially been confirmed after rumors and teasers suggested an Ariana x Fortnite collaboration was coming to the game in the near future.
We also have Superman coming next week although we don't know how we'll be able to unlock him yet, but we'll likely get more information on that during today's new Fortnite update.
Epic Games announced the new update, v17.30, in a tweet on the official Fortnite Status account and here's everything you need to know.
Fortnite Update Servers Down
Epic announced that services will be disabled at approximately 1:30 AM ET (5:30 AM UTC). The Fortnite servers didn't go down until 2:30 AM and are still currently down. Here's the tweet from the Fortnite Status Twitter account: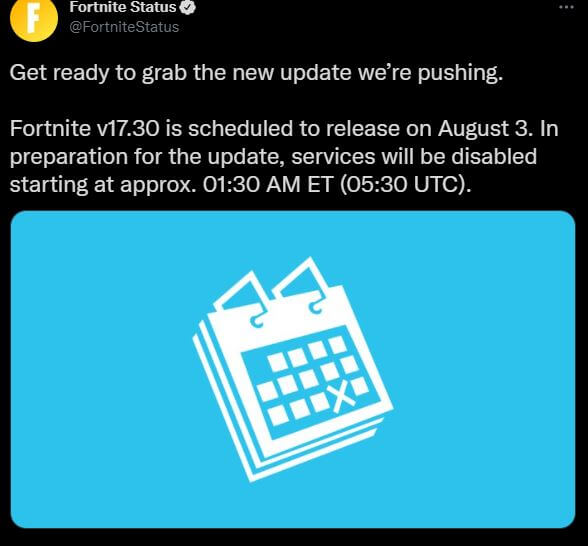 We're not sure how long the servers will be down for, but we wouldn't be surprised if they're down for longer than usual as Epic will likely be testing the servers for the upcoming event. When the servers are back up, we'll update you here.
Patch Notes
Epic Games have started releasing Fortnite patch notes for Battle Royale again, although they don't include all the changes. It's almost certain the Grabitron gun will finally be released today, but we'll confirm when the servers are back up.
Leaks
As with all major Fortnite updates, expect data-miners to leak upcoming skins, pickaxes, gliders, and other cosmetics including packs. We should also see more event files leak along with challenges for the next couple of weeks.