Here's everything we know about the new Fortnite update today, v18.10.
It's been two weeks since the launch of Fortnite chapter 2 season 8 and we had our first update of the season last week. The v18.00 hot fix update introduced the birthday event along with Armored Walls.
Epic Games have announced that there will be a new Fortnite update today, September 28 2021, v18.10. Here's what we know about the update so far including the new content we can expect to see, bug fixes, server downtime time and more.
Server Downtime & Status
The Fortnite Status Twitter account tweeted a few hours ago that the first major update on season 8 will be releasing on September 28th, 2021. The Fortnite servers will go down at 4 AM ET and will likely remain down for a couple of hours.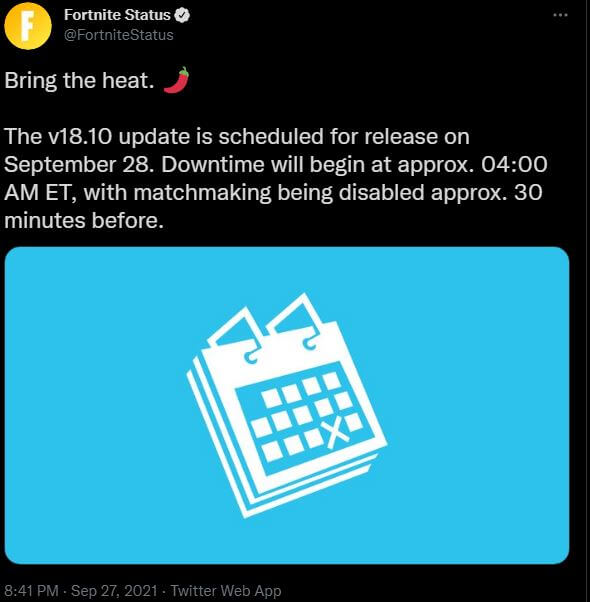 We'll update you here when the servers are back up.
v18.10 Fortnite Update Patch Notes
In previous seasons in chapter 2, Epic Games would post what the new content would be in the update before it's release through emails or by providing the information on Twitter. This season however, Epic have been posting official patch notes after an update goes live although they still miss out information including changes to items and weapons.
In the tweet announcing the update, Epic added "bring the head" with a spice emoji. That hints that we'll be getting the Chug Splashes item that was leaked by data-miners from the v18.00 season launch update.
The Chug Splash heal 20 health but won't provide any shield, they'll multiply movement speed by 1.4 and will last a minute. Here's a look at what they'll look like in-game thanks to Fortnite data-miner Hypex:
We could see a new POI introduced or see some damages to existing POI's. There's no official information on this, but we'll likely know if there are any map changes during server downtime.
v18.10 Bug Fixes
Crash site slip streams will no long disable once hitting a certain storm circle phase.
Vehicles taking heavy damage when colliding with Mothership wreckage will be addressed.
Stoke a campfire not working will be fixed.
Donation boards not displaying war effort items in chosen language.
Fortnite Leaks
As with all major Fortnite updates, data-miners will leak all the new files that are added in this update. Expect new Fortnite skins, challenges, and upcoming items and weapons to get leaked.