Here is a new concept to improve the Vending Machines in Fortnite.
Vending Machines were first added to Fortnite Battle Royale in Season 3 and they can be found in various different locations around the map. There are different rarities of the Vending Machines and the items in the machine will be of that rarity. You can cycle through the three items in the machine quicker by pickaxing to the item you want.
When they were introduced in v3.40, players would have to purchase the item they wanted with materials and the price would depend on the machine variant. Each item in the machine was bought from different material, from Wood, Stone or Metal and there were no limitations on how many you could purchase. You can see the costs depending on rarity of the Vending Machine below: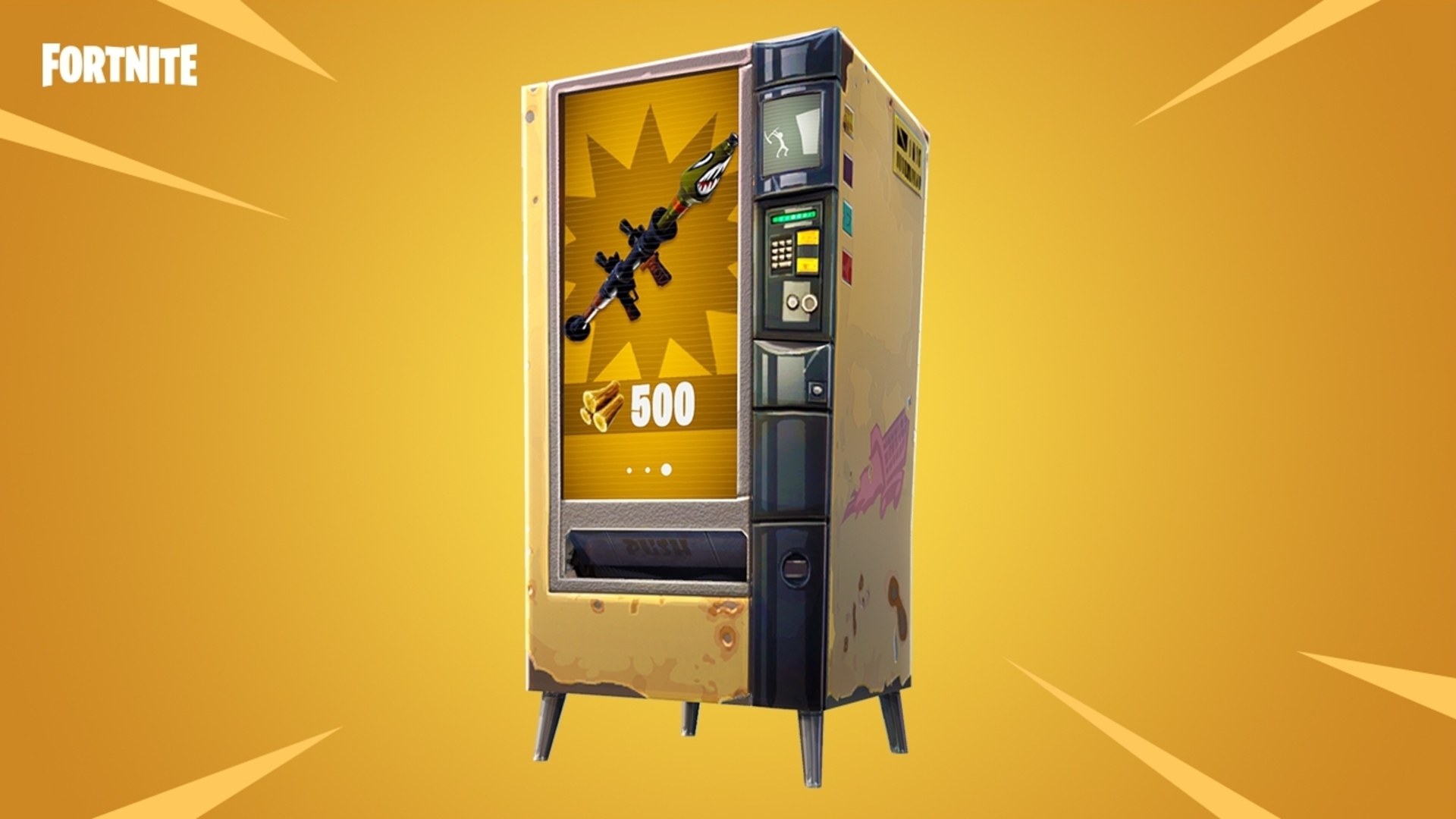 Items found in a Common (white) version will cost 100 materials.
Items found in a Uncommon (green) version will cost 200 materials.
Items found in a Rare (blue) version will cost 300 materials.
Items found in a Epic (purple) version will cost 400 materials.
Items found in a Legendary (gold) version will cost 500 materials.
In the v8.10 update, Epic had made changes to the Vending Machine where it would still have three different items for players to choose from, but it would be completely free. Once an item has been claimed from the machine, it is destroyed so it cannot be used again. Common and Uncommon variants have also been removed so you are guaranteed to get a Vending Machine that contains at least Rare items.
Reddit user Kitteh6660 has suggested that Vending Machines should be changed again as some players do not like that the machines disappear after one use. They have suggested that instead of the machines disappearing, a cooldown time should be introduced instead. Once the cooldown time has ended, the rarity of the Vending Machine will change, as well as the items in the machine:
3 minutes seems like a long time to wait around for a Vending Machine to become available again and some members of the Fortnite community have their own suggestions on what should change with the machines to improve them.
Reddit user GeoHaze- has suggested that players should be able to restock the Vending Machines with materials to get a brand new set of three items to choose from instead of the items offered in the original machine.
Reddit user Mokes_ has suggested that the first player to get to the Vending Machine should get any item for free, but the machine should not disappear and subsequent players will then need to pay materials for the item.
An issue at the moment with Vending Machines is that duplicates are seen in the same machine. Do you think any other changes need to be made or are they fine as they are? Let us know in the comments below.