Here is the leaked P-1000 Skin, which will be available as an upcoming challenge pack called "Traveler".
Epic are always adding new cosmetics to Fortnite and these are usually added in new updates that require some downtime. There are many different ways in which you can purchase these new cosmetics, with some being available in the Item Shop to purchase with V-Bucks and some available in store to purchase as a bundle.
There are many different types of Fortnite Cosmetics Bundles that have been introduced, with one of them being Challenge Packs. In these packs, you will get a Skin upon purchasing the bundle and also challenges where you can earn V-Bucks.
The v10.30 Fortnite update is available to download and data-miners have found a new Skin that has been added, but will not be purchasable in the Item Shop. This Skin is called P-1000 and can be seen below, thanks to @Lucas7yoshi.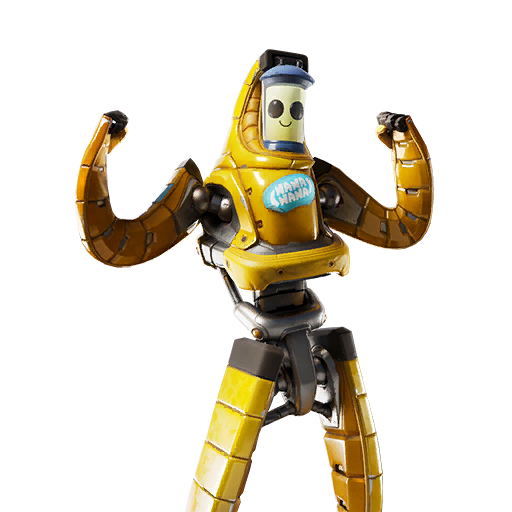 Encrypted P-1000 skin! pic.twitter.com/SUnjcTCoHu

— Prism (@pr1smdev) September 11, 2019
Lucas has also found challenges related to this Skin, which suggests that it will be the next Challenge Pack, as there are V-Bucks rewards for completing the challenges. Here are the challenges that are showing with the P-1000 Skin.
Complete 1 Limited-Time Mission Objective – 100 V-Bucks Reward
Complete 3 Limited-Time Mission Objectives – 200 V-Bucks Reward
Complete 5 Limited-Time Mission Objectives – 300 V-Bucks Reward
Complete 7 Limited-Time Mission Objectives – 400 V-Bucks Reward
Complete 9 Limited-Time Mission Objectives – 500 V-Bucks Reward
Completing all of these challenges will earn you 1,500 V-Bucks.
We do not know when this bundle will be available in store, but we will let you know as soon as more information is released.
Make sure you follow us on Twitter, @Fortnite_BR, for all the latest Fortnite news and turn website notifications on.
What do you think about the P-1000 Skin and will you be purchasing it? Let us know in the comments section below.