Epic Games are always adding new Limited Time Modes to Fortnite Battle Royale to change up the normal Battle Royale Mode. There have been many LTM's in the past that have been well received and Epic have also been updating and improving past LTM's to take on the feedback from the community and make them more enjoyable.
There have been two new LTM's that have been datamined by @FNBRLeaks, called 'Score Royale' and 'Final Fight'.
Score Royale
The description of this LTM reads:
A brand new take on earning a Victory Royale. This mode rewards players who like to explore and search for loot. Earn points by opening loot containers, using foraged items and eliminating other players. The first player to pass the High Score threshold wins!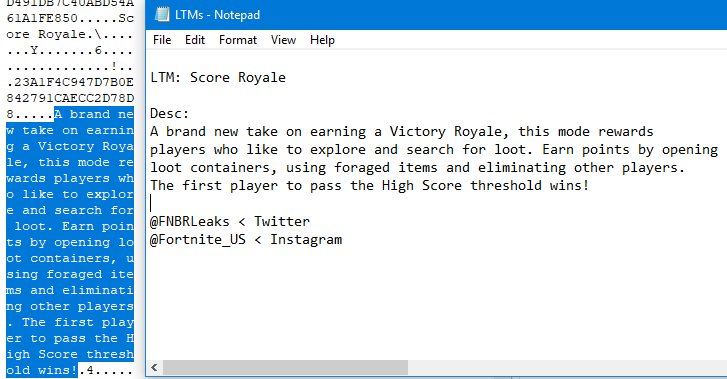 This game mode is something completely different from what we've seen in Fortnite before. It seems as though a point system will be introduced for this game mode, and players will be rewarded for looting as much as possible, as well as getting kills. There also seems to be a score in which players will have to strive to get to win the mode. It will be interesting to see how this scoring system will work and what the gameplay will be like.
Final Fight
The description of this LTM reads:
Make it to the final circle and then fight for the Victory Royale!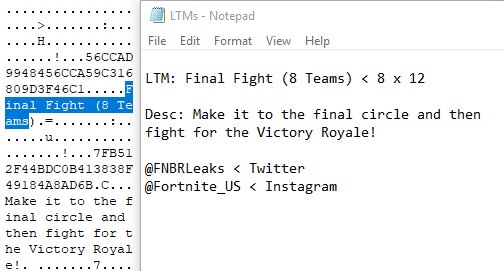 It has been mentioned that there will be 8 teams of 12, meaning the lobby will have 96 players instead of the standard 100. We have seen LTM's similar to this game mode and so the concept will most likely same as to what we have seen. There may even be 8 Battle Buses as we have seen in the 20v20 LTM.
NOTE: These LTM's have not been confirmed by Epic, however these files do exist and could be released in the future. We will keep you updated if there is any more information on these LTM's.
Here's the Bug That Forced Epic Games to Disable Shopping Carts