Epic Games have just announced the next new Fortnite Update, v12.40. Here's everything you need to know.
The last major Fortnite update was v12.30 a couple of weeks ago. It was quite a significant update with Epic Games adding two brand new items two the game, the Crash Pad and the Kingsman umbrella.
They've both been good additions to the game and shows that Epic are looking to keep the game fresh, something which much of the player base seems to agree that it wasn't the case for chapter 2 season 1.
Since the last update, we've also had the Deadpool hand cannon weapon added to the game on Friday along with the release of the Deadpool Yacht party. Epic have announced the next Fortnite update, v12.40, and here's everything we know so far about tomorrow's update.
Fortnite Update
Fortnite Server downtime and when they will be back up
Epic Games have announced the time and date of the next Fortnite update including when the server downtime will begin. We've been used to a certain time schedule when it comes to Fortnite update with Epic usually bringing the servers down at 8 AM or 9 AM UTC.
Epic have decided to change this and are now releasing their updates at 2 AM ET (6 AM UTC). We're not too sure why they've decided to do this, but tomorrow's update will also be releasing after server downtime which begins at 6 AM UTC.
The v12.40 Fortnite update will be releasing tomorrow, April 15th at 6 AM UTC.
Here's the tweet that the official Fortnite status Twitter account put out recently: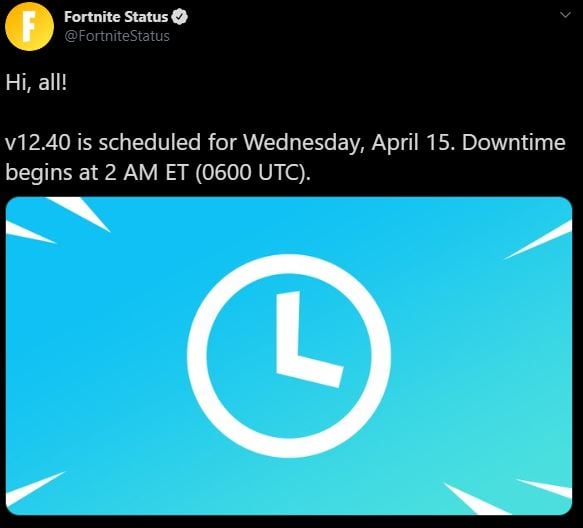 Most of the major patch updates have server downtime lasting around 2 hours. We can expect this to be the same for the newly announced update. We will however, keep this post updated as soon as the servers are back online as sometimes server maintenance can be quicker or longer than what we've seen with past releases.
Fortnite Patch Notes
With tomorrow's update being a major update, we'll be posting Fortnite patch notes tomorrow as soon as we possibly can. We can assume that Epic Games won't be posting any patch notes, something they started doing at the start of chapter 2.
Since then, we've been gathering and posting our own Fortnite patch notes for the major updates, and we'll do the same for tomorrow's update. With Epic Games seemingly looking to keep the game fresh unlike last season, we can probably expect at least one new item being added to the game.
Fortnite Leaks
There'll be leaks from tomorrow's update. We should see new leaked skins from the update along with new upcoming challenges including the ones Epic have referred to in their blog regarding chapter 2 season 2 being extended.
As always, we'll be posting all of the Fortnite leaks from the update as soon as data-miners release them.