There was a post on Reddit where it showed that Ninja has banned a player for having a higher ping than him and was later banned. Turns out that this player had actually changed his name to make it look like every player Ninja reports is banned by Epic. There are also screenshots posted of the people involved in the Reddit post boasting that they had "ruined Ninja's career".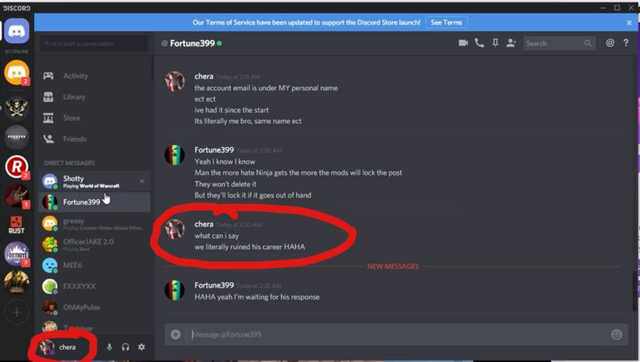 DrLupo had tweeted the following in regards to the Reddit post:
Just got caught up on Reddit drama. Someone account name swapped to try to incriminate @Ninja and make it look like Epic bans whoever he reports. Person was caught talking about "ruining his career."

Imagine being that jealous of someone.

— DrLupo (@DrLupo) November 18, 2018
To which Ninja responded:
Worst part is the majority of people who saw that reddit post wont see what you just tweeted and will continue to think he was banned. https://t.co/TVMee3LNrd

— Ninja (@Ninja) November 18, 2018
Epic had also commented on the original Reddit post, which became the top post on Reddit, with the following: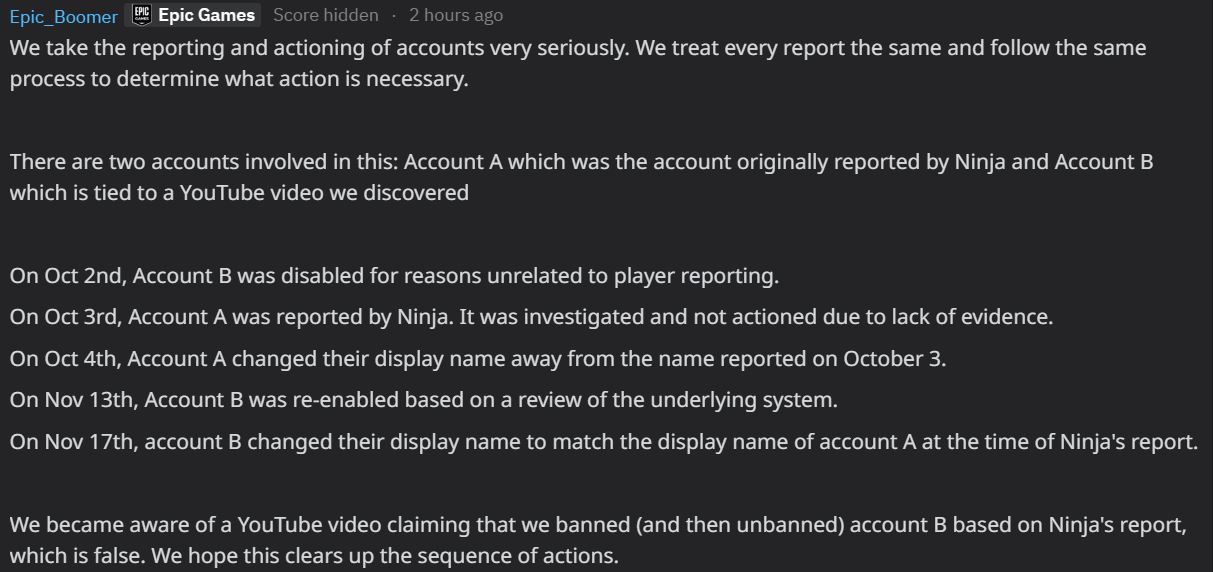 "We take the reporting and actioning of accounts very seriously. We treat every report the same and follow the same process to determine what action is necessary.
There are two accounts involved in this: Account A which was the account originally reported by Ninja and Account B which is tied to a YouTube video we discovered.
On Oct 2nd, Account B was disabled unrelated to player reporting.
On Oct 3rd, Account A was reported by Ninja. It was investigated and no actioned due to lack of evidence.
On Oct 4th, Acccount A changes their display name away from the name reported on October 3
On Nov 13th, Account B was re-enabled based on a review of the underlying system.
We became aware of a YouTube video claiming that we banned (and then unbanned) Account B based on Ninja's report, which is false. We hope this clears up the sequence of actions."
They confirm that there were in fact two seperate accounts involved and that the account Ninja had reported was not in fact banned because of Ninja's report, but for other reasons. The other player must have seen the video of Ninja reporting the first account for high ping and decided to change their name to have the same name to make it seem like they were banned just because Ninja had reported their account for high ping.
Epic have stated that they will not ban accounts based on who has reported the account, but on the grounds they were reported and if it a bannable offense and goes against their TOS. Epic do not outline the reason why players are banned and so it was not initially clear as to why these accounts were banned.
Ninja was not the reason why the account was banned and the account that was initially reported by Ninja did not make the video that was posted on Reddit.