Here's everything you need to know about the Soccer characters / players in Fortnite including all the locations of where to find them and how to talk to them.
A few days ago, Epic Games confirmed that the Neymar Jr Fortnite skin and the other cosmetics in the set would be available to unlock today, April 27th. Epic then revealed the skin in a trailer along with the challenges and an upcoming cup and other rewards in a blog post.
The v16.30 Fortnite update went live today and the Neymar Jr Fortnite skin was added to the files along with the challenges and the soccer characters and players. In order to unlock the skin and the other cosmetics, players need to complete challenges some of which require players to use the new soccer ball today.
In order to complete these Neymar Soccer Character quests, players need to know where the soccer players/characters are located on the Fortnite season 6 map. We have the locations of all the Fortnite soccer characters and players along with some tips in order to complete the Neymar Jr quests/challenges as quickly as possible.
Where are the soccer players in Fortnite?
Here is where you can find soccer characters / players in Fortnite:
Pleasant Park
Holly Hedges
Dirty Docks.
Here's the map location of the Soccer players in Fortnite: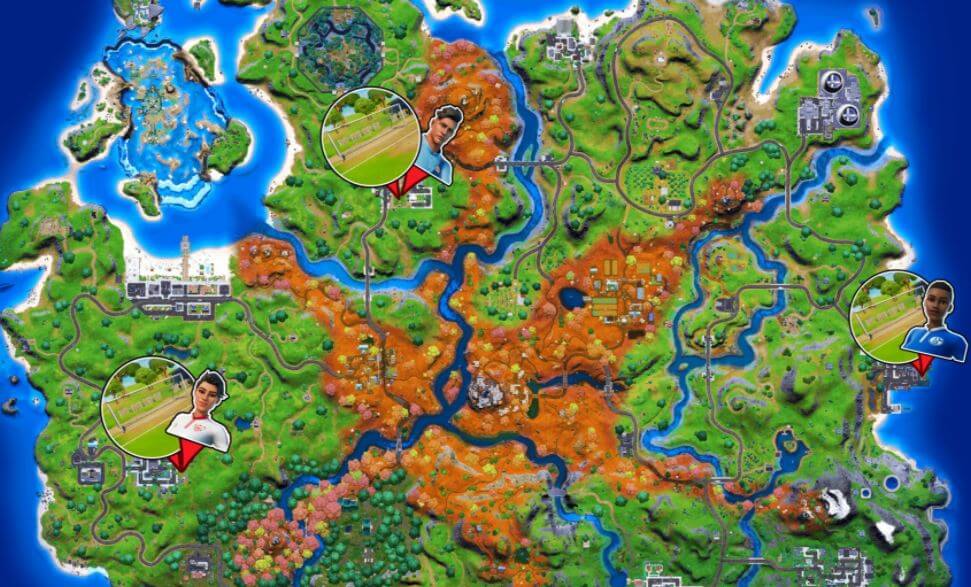 Talk to a Soccer Character Fortnite
In order to talk to a soccer player or character in Fortnite, you simply need to find the soccer players at the locations marked above. Interact with them to talk to them and you'll have completed one of the challenges that'll unlock the Soccer ball Fortnite toy that'll be required to complete some of the other challenges.
Distance drop kicking the soccer ball toy as Neymar Jr
Even if you go to the highest point on the Fortnite map and drop kick the soccer ball toy, it seems like the challenge doesn't work properly. Players sometimes report the challenge completes whilst for others it doesn't. Your best bet is to just kick the ball and ensure the ball is in view once it ends rolling.