Two more old map (chapter 1) Fortnite locations, Tilted Towers, and OG Factories will come back in Chapter 3 Season 1.
We should be under thirty minutes away from Chapter 3 Season 1 starting. Since the end of chapter 2, we've seen the full map reveal and we've leaked a map with all the named locations as well as POI's and Landmarks.
When the map was slowly being revealed as part of the "Fortnite Flipped" social media campaign, players were looking closely at the new locations to see if any locations from chapter 1 would be making a return.
Shifty Shafts, Wailing Woods, and Greasy Grove are all making a return this chapter and it looks like we could be getting more popular locations making a return at the start of during season 1.
Is Tilted Towers Coming Back in Fortnite?
Players have been waiting for Tilted Towers to make a return to the Fortnite map since it was destroyed at the end of chapter 1. We did see a partial return in chapter 2, but it's safe to say most players weren't a fan.
Players looked at parts of the new map covered in snow and quickly realized it could be Tilted Towers. After comparing what we can see from the new map against the chapter 1 map, it's safe to assume Tilted will be making a return in chapter 3 season 1.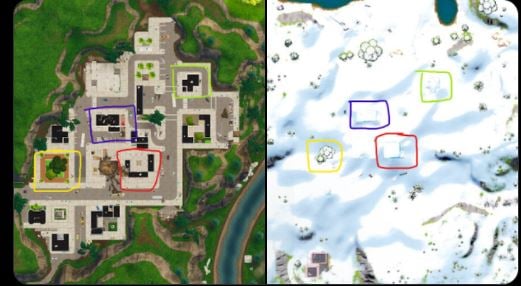 A large part of the map is covered by snow which will slowly melt after Winterfest. This will reveal Tilted slowly and will make a full return. There's always the possibility there might be some changes to the location, but we'll need to wait for the season to progress to find out.
OG Factories Return
With the return of other locations, it's been easy to spot on the new map. However, some players have looked at the map and mentioned OG Factories is on the map. Here's a look at the possible return of OG Factories: