Here is the answer and some hints for the Octordle words for #33 today, released on February 26th 2022.
UPDATE: CLICK  HERE FOR THE HINTS AND ANSWERS TO OCTORDLE 34 WORDS!
Octordle is the extreme version of Wordle where you need to guess eight five-letter words simultaneously in only 13 guesses (or less). The guesses you make will count towards all words and so you will need to be selective in the words you choose so you can ensure you reveal the most amount of letters in each word to help figure them all out in the guesses you are given. Due to its difficulty, we have compiled a few hints for the Octordle 33 words, all of which you can see below.
Octordle Words Hints Today
Hint 1: There is an S in words 1, 2 and 7.
Hint 2: There is a H in words 1, 4 and 6.
Hint 3: There is an X in word 8.
Hint 4: There is an Y in words 5 and 6.
Hint 5: Here are the starting letters of each word:
Word 1: S
Word 2: S
Word 3: C
Word 4: B
Word 5: R
Word 6: H
Word 7: L
Word 8: E
Hint 6: Here is a little description of all of the words:
Word 1: Very thin or transparent.
Word 2: You do this when you get too hot or whilst exercising.
Word 3: An old door will make this noise.
Word 4: A large tree.
Word 5: Someone who's noisy and disruptive.
Word 6: To be passionate in an intense or angry way.
Word 7: A particular place or position where something happens.
Word 8: To fell or show triumphant elation.
What is the Octordle 33 Answer Today? (February 26th, 2022)
Here are all of the eight answers for Octordle 32 today:
Word 1: SHEER
Word 2: SWEAT
Word 3: CREAK
Word 4: BEECH
Word 5: ROWDY
Word 6: HOTLY
Word 7: LOCUS
Word 8: EXULT
You can see the words I used to get to the answers in the screenshots below: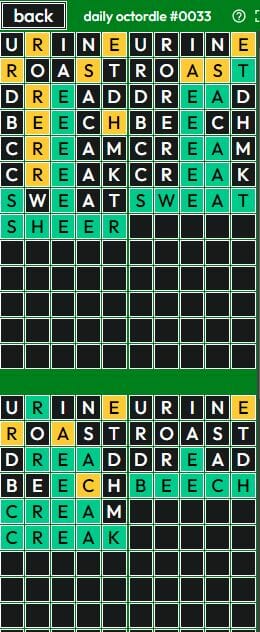 Today's 'Octordle' Word of the Day Answer #34: February 27th 2022