Here is the answer and some hints for the Octordle words for #34 today, released on February 27th 2022.
UPDATE: CLICK HERE FOR THE ANSWER TO OCTORDLE 35!
In Octordle you need to guess eight five-letter words simultaneously and you need to guess them all in 13 guesses or less! The rules are the same a Wordle where no initial clues are given for any of the words in the puzzle, but once you start making guesses, you will notice the tiles will change colour to let you know if the letter appears in the word at all and if you have it in the correct position in the word. You need to then make educated guesses in order to solve all the words, but you will have to be more selective in the words you choose to ensure you reveal as many letters for the words as quickly as possible to win the game.

Octordle Words Hints Today
We give our readers some hints for the letters in the Octordle puzzles before the answers so you can still try to figure out the answers from the hints. Here are the clues we have for Octordle 34 today.
Hint 1: There is an S in words 3, 4 and 7.
Hint 2: There is a H in words 3 and 8.
Hint 3: There is an T in words 3, 5, 6, 7 and 8.
Hint 4: There is an Y in words 5, 6 and 7.
Hint 5: There are no vowels in word 5.
Hint 6: Here are the starting letters of each word:
Word 1: R
Word 2: G
Word 3: T
Word 4: L
Word 5: T
Word 6: T
Word 7: S
Word 8: B
Hint 7: Here is a little description of all of the words:
Word 1: To age.
Word 2: The third letter of the Greek alphabet.
Word 3: Another word for rubbish.
Word 4: A bar used to lift or pry something.
Word 5: A private rendezvous between lovers.
Word 6: To be late.
Word 7: A British children's show.
Word 8: A small space like a box that a person can go into.
What is the Octordle 33 Answer Today? (February 27th, 2022)
Here are all of the eight answers for Octordle 33 today:
Word 1: RIPEN
Word 2: GAMMA
Word 3: TRASH
Word 4: LEVER
Word 5: TRYST
Word 6: TARDY
Word 7: SOOTY
Word 8: BOOTH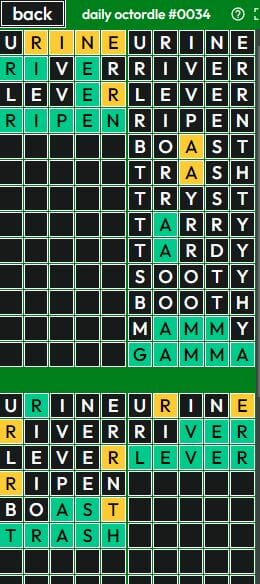 Make sure you come back tomorrow for all the answers to the new puzzle!
Today's 'Octordle' Word of the Day Answer #35: February 28th 2022