Here is the answer and some hints for the Octordle words for #40 today, released on March 5th 2022.
UPDATE: CLICK HERE FOR THE ANSWER TO OCTORDLE 42!
If you've done your Wordle, Dordle and Quordle for the day and you still aren't satisfied, there's still an Octordle puzzle you can play where you need to guess eight five-letter words simultaneously! There are only thirteen guesses you get to solve all of them and trust me, it really cuts it close sometimes! If it's the first few times you are playing this game, don't worry if you don't get them all as it is really hard to do them in the little guesses you get. Don't worry though as we have the hints to help you to solve the words as well as the answers!
Octordle Words Hints Today
We give our readers some hints for the letters in the Octordle puzzles before the answers so you can still try to figure out the words yourself. Here are the clues we have for Octordle 40 today.
Hint 1: There is a P in words 1, 4 and 5.
Hint 2: There is a Y in word 7.
Hint 3: There is an L in word 6.
Hint 4: There is a B in word 1.
Hint 5: There is a W in word 4 and 8.
Hint 6: Here are the starting letters of each word:
Word 1: P
Word 2: G
Word 3: S
Word 4: P
Word 5: P
Word 6: S
Word 7: G
Word 8: W
Hint 7: Here is a little description or clue for all of the words:
Word 1: Relating to the pubes.
Word 2: A piece of living tissue that is transplanted surgically.
Word 3: A vertical wooden post or plank in a building or other structure.
Word 4: A crustacean.
Word 5: A person holding religious beliefs other than those of the main world religions.
Word 6: Partially melted snow or ice.
Word 7: Being more gay.
Word 8: Unwanted or unusable material.
What is the Octordle 40 Answer Today? (March 5th, 2022)
Here are all of the eight words for Octordle 40 released today on March 5th 2022:
Word 1: PUBIC
Word 2: GRAFT
Word 3: STAVE
Word 4: PRAWN
Word 5: PAGAN
Word 6: SLUSH
Word 7: GAYER
Word 8: WASTE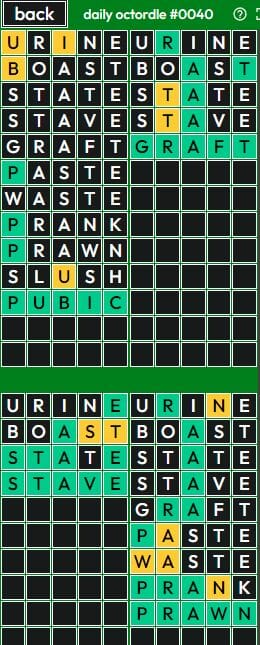 Well done if you managed to guess all the words for today's puzzle as it was a hard one and honestly I had no idea that gayer was even a word!
Today's 'Octordle' Word of the Day Answer #42: March 7th 2022