Here is the answer and some hints for the Wordle 266 word for today, released on March 12th, 2022.
UPDATE: CLICK HERE FOR THE HINTS AND ANSWER TO WORDLE 267!
There is a new word released in Wordle every day at midnight in your time zone and we will always be covering the hints to help to solve the word as well as giving you the answer if you are still struggling.
So many other games have come to fruition due to the popularity of this one and we have a list of the more successful ones below:
Wordle 2 – Guess the six-letter word, twice a day
Nerdle – Solve the maths equations
Dordle – Solve two five-letter words simultaneously
Quordle – Solve four five-letter words simultaneously
Octordle – Solve eight five-letter words simultaneously
Heardle – Guess the song by hearing snippets at a time
We cover the answers for all these games, so make sure you check those out on our website if you need any help!
Wordle 266 Hints Today – March 12th, 2022
It can be difficult to get the word of this game sometimes, so here are some hints we have for Wordle 266 to help you to complete the word for today.
Hint 1: Contains the letter Y.
Hint 2: It starts with the letter T.
Hint 3: There are two vowels in the word today.
Hint 4: The present day.
What is the Wordle 266 Answer Today? (March 12th, 2022)
Here is how I managed to guess the Wordle 266 answer in three tries today. The first word I started with is the word 'AUDIO'. This was a great guess as it placed the D in the correct place and it also showed me there was an A and an O in the word, which means I most likely had all the vowels for the word in just the first guess!
I then decided to go with the word 'TROAD' which contains all the letters I already know but doesn't have the D in the middle. I couldn't think of another word that had all the letters I already knew but with the D in the middle, so this way I was hoping it would place the other letters, which would help me to see what the word is.
Luckily this worked as the guess showed me the word starts with a T and also place the A in the correct place. I now know that the word starts with a T, has a D in the middle, followed by an A. I also know from process of elimination that the O is in the second place, so the word starts with, 'TODA', which made it easy to guess the answer for Wordle 266, which is…
TODAY!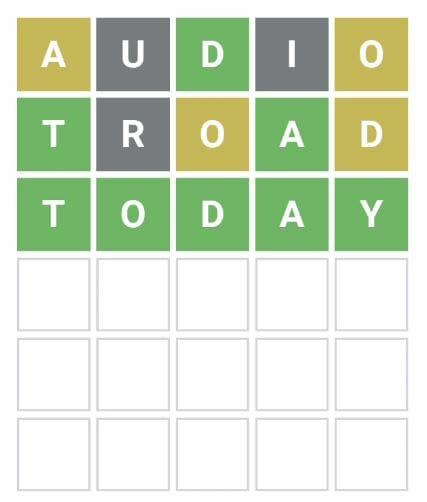 Well done if you managed to guess that correctly! Make sure you check out the hints and answers to the Wordle 2 six-letter words in the article below:
Today's 'Wordle 2' Words of the Day Answers #105 and #106: March 12th 2022