It looks like we're getting a unicorn Fortnite skin in the chapter 2 season 8 Battle Pass.
Fortnite chapter 2 season 7 concluded after the Operation: Sky Fire event. During the event, players infiltrated the mothership and set off the explosives to destroy the ship. During the event, Kevin the Cube made a return. It was swiftly destroyed before players rebooted it, seemingly turning it to the good side in the process.
However, there were thousands of different cubes in the mothership, one of which was gold and could be seen in the far distance when all of the other cubes were shown near the end of the event.
The event ended with players falling out of the mothership once it was destroyed along with numerous different cubes that will likely destroy parts of the Fortnite chapter 2 season 8 map with popular named locations being fully or partially destroyed.
Now that the season is over, Epic Games have began posting teaser images for the new season of Fortnite. The first teaser that's been posted on social media seems to provide us a look at one of the Fortnite chapter 2 season 8 battle pass skins, a unicorn.
Fabio Sparklemane Fortnite Unicorn Skin
The first teaser for Fortnite season 8 has the follow caption:
"You took quite the fall there… oh, that's Fabio Sparklemane…he's just getting ready for battle". Here's a look at the season 8 Battle Pass Fabio Sparkleman Unicorn skin: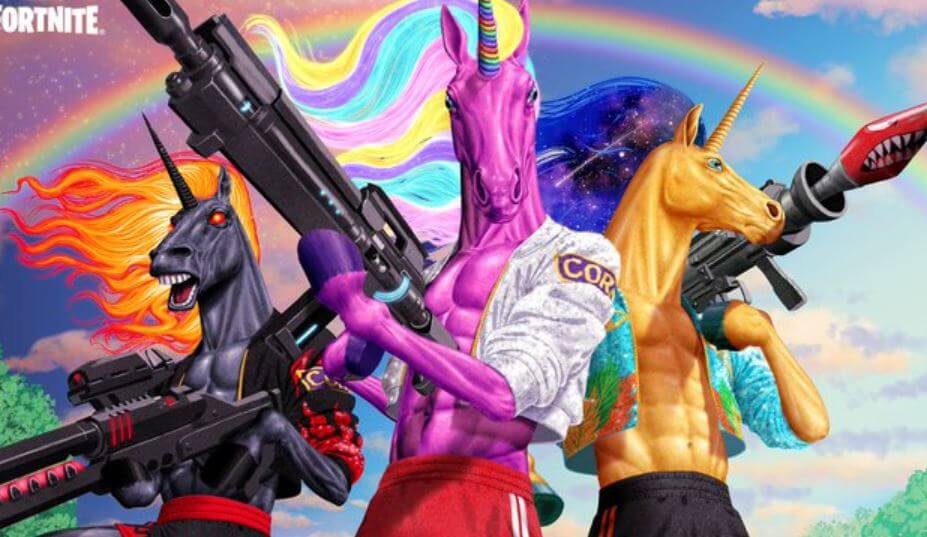 As you can see from the image, it looks like the Unicorn skin will have three different styles. I'm personally a fan of the skin style on the left. Based on the fact that this is the first teaser for season 8, this could potentially be the first skin that's available in the season 8 Battle Pass.
Each Season 8 teaser will have part of a QR code on it. We don't know what the code is for, but we'll find out soon enough.
Although it's not been confirmed by Epic that this is in the battle pass, Epic wouldn't tease a skin in the new season teaser unless it's part of the Battle Pass. Let us know your thoughts on the Fabio Sparklemane skin in the comments section below.