The chapter 3 season 2 map has red and blue lines on it. Here's what they are and why they're there.
We thought we saw the end of the IO at the end of chapter 2 when the map flipped and the IO remained on the other side. However, a couple of weeks later, there were numerous IO outposts with guard patrols.
During the last few weeks of season one, the IO was drilling through the map to get to the seven on the chapter 3 map. The chapter 3 season 2 storyline trailer showed that they were successful with the drills appearing on the map with IO guards and tanks in them. A fleet of air support followed along with Dr. Slone and the Prowler.
There are a number of changes the new season has brought to the map including new IO bases, blimps above specific named locations, and the fact that you can no longer build on the map anymore, although that change won't be for long.
One of the changes that players are confused about in chapter 3 season 2 is the red and blue lines that appear on the in-game map. The lines clearly separate parts of the map, but players have no idea why or if these lines are significant to the season.
What are the blue and red lines on Fortnite map?
The red line covers most of the inner map with the blue lines controlling the outskirts of the map including a large portion of the east side. The blue lines on the map represent the zones that are controlled by The Seven whereas the red lines on the Fortnite chapter 3 season 2 map belong to the IO.
These aren't just visual changes, they affect the gameplay too. For example, the red lines that represent the IO territory have better equipment available for players as these zones are the only place where you can find tanks in the game.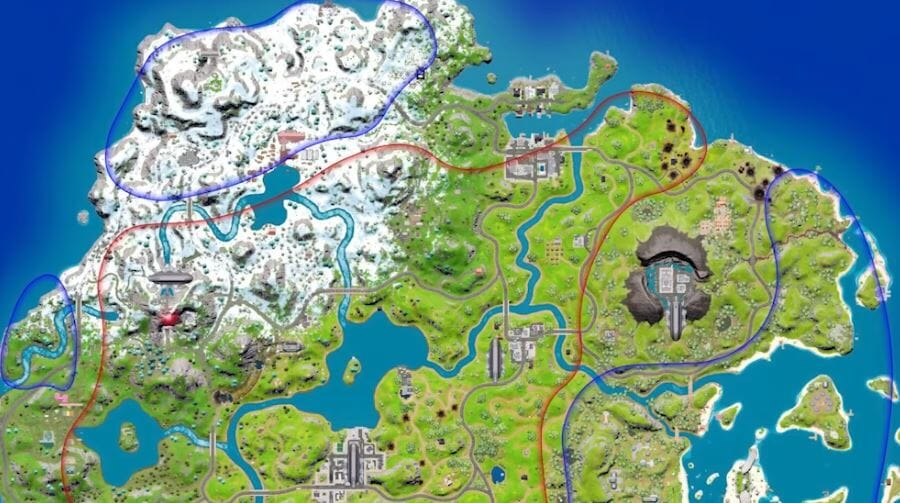 Furthermore, NPCs in the red zone will be aggressive and attack you whereas that isn't the case in the blue zones. However, once the armored Battle Buses are added into the game, they'll be available in the blue zones and will likely be as useful as the IO tanks.
During the season, we should see the red and blue lines change as The Seven get more support from the funding system. By the end of the season, we should see the IO surrounded in the middle of the map.
That's what the blue and red lines are on the Fortnite map. With the season being so new, there might be other details we might have missed regarding the blue and red lines, but we'll update this if we find any other information as the season progresses.