Here's the time when the Fortnite new years 2022 event will be live.
It's almost been a month since the launch of Fortnite chapter 3 season 1 and the Winterfest event that was launched a couple of weeks ago ends in the new year on January 6th. Players have until then to get the free Blizzabelle skin if you're on PC, and players on other platforms can get free cosmetics from the shop and challenges.
Once you complete seven of the Winterfest challenges, you'll get a glider, and a back bling once you've completed ten. Last year, there were some Fortnite New Years cosmetics from the challenges and two years ago, there were new years-themed cosmetics from the presents.
That isn't the case this year and players will instead need to buy the New Years 2022 Fortnite cosmetics from the shop. There's also a mini-event for the new year and here's everything you need to know about the event.
Fortnite New Years Event 2022 Time
The Fortnite new years event for 2022 has already started. It will happy every hour leading up to 2022. When it's a new hour, you'll see a disco ball emerge from the sky similar to what we've seen in previous years.
Once the ball comes down, fireworks will go off and you'll be forced to dance along with everyone in the lobby until the mini-event ends. It can get a little frustrating being forced to dance as you're in a fight. However, there is a countdown that will appear in the sky before the event is set to begin.
It should hopefully give you enough of a warning to prepare yourself for a short period of time where you won't be able to fight. We recommend boxing yourself and waiting until the event concludes unless you want to watch the fireworks.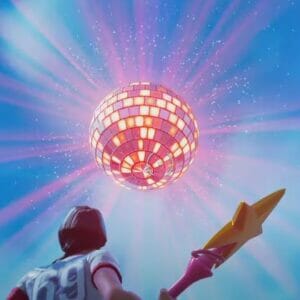 The event is the same every hour, so if you've experienced it once, it's probably best to box yourself.