It looks like we have confirmation of an official release date for the new season of Fortnite, chapter 3 season 2.
Chapter three of Fortnite has been available for more than three months. Epic introduced new features such as sliding and swinging, which helped the chapter get off to a great start. The new map appears to be well received as well, with many calling it the best we've ever had.
The Winterfest Christmas event went live a few days after Chapter 3 Season 1 launched. Throughout the event, players could earn free cosmetics from the cabin by unwrapping a new present each day. After completing a series of challenges, additional rewards became available.
We had some major map changes in the first two major patch updates, but after the 19.20 release, the content dried up. Since then, players have been anticipating the launch of a new season of Fortnite.
Epic Games usually releases teaser images, videos, or audio clips a few days before the start of a new season to generate buzz around the new release. We haven't had it this time, and we haven't had the usual blog post confirming the release date for Chapter 3 Season 2.
There has also been no official word on a postponement of the season. If there was a delay, Epic would have communicated it sooner. That means Epic's most likely reason for not releasing any official information or teasers is to do so a few hours before server downtime.
Data-miners were able to catch one of Epic's employees slipping up by all but confirming that the new season of Fortnite, Chapter 3 Season 2, will be released this weekend.
When does the new season of Fortnite Come out? Time & Date
Fortnite chapter 3 season 2 is scheduled to release on Sunday, March 20th, 2022. The time it will likely release is after scheduled downtime at 4 AM ET. The Battle Pass tab mentions today, but that is always incorrect. The PlayStation store has the 22nd as the start date, but again, that information is usually incorrect.
Joe Strub, Fortnite's UI programmer, tweeted, "48 hours until I get to change my header image again #FortniteSeason2." The tweet was deleted a few minutes later, but it had already been screenshotted and posted as a response to most tweets asking when the new season of Fortnite would begin.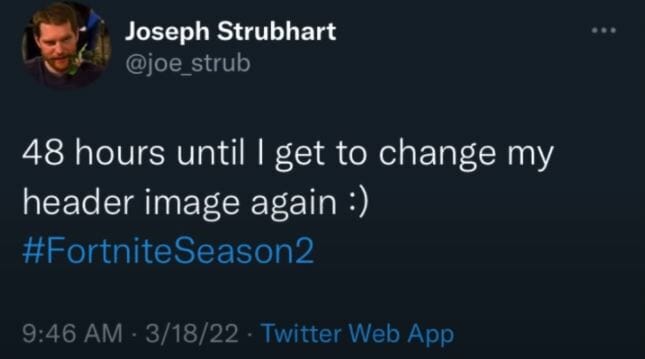 Hopefully, that is the official release date, and Epic is not in a position to postpone the season. The Fortnite Status Twitter account is expected to post when the servers will go down for the 20.00 update tonight, so we should get some sort of confirmation. As always, we'll keep you up to date on the latest developments.
UPDATE: The release date has been confirmed for tomorrow March 20th with downtime starting at 7 AM UTC.
In the meantime, take our Fortnite quiz below!
When Did Chapter 3 Season 1 Launch?
What's the name of this seasons Starter Pack
A new item, Guzzle Juice, was added this season. What does it do?
What is the name for Chapter 3?
What is the rarity of the Wooly Mammoth Glider?
When were the Spider-Man Mythic Web Shooters added to the game?
What is the name of the additional Skin for Chapter 3, that is not yet released?
Which one of these is not a new weapon this season
In the official Fortnite Chapter 3 Character trailer, who if the first character shown?
How many V- Bucks can you earn if you unlock all of the rewards from this seasons Battle Pass?
How many Loading Screens are there in this seasons Battle Pass?
Which of these features were added in Chapter 3 of Fortnite?
On what page of the Chapter 3 Battle Pass will you find the Lunar Charge Emote?
Which one of these is NOT a landmark in Chapter 3?
When is this season (chapter 3 season 1) scheduled to end?
Where is The Sevens hidden home on the map?
Which of these POIs is NOT on the Chapter 3 map?
There are seven new Battle Pass skins not including the secret skin. Which of these is not the name of a Battle Pass skin?
When did the Chapter 2 finale event take place?
What's the code name for the new map?
Fortnite C3:S1 Quiz
You're FlyTrap! Better luck next time!
You're Grimbles! Sucks to be you
You're Shadow Midas! Congrats!
You're Spider-Man and a sweaty FN player!