Here's when Tilted Towers will be making a return to Fortnite in chapter 3 season 1 now that we have a scheduled release date.
It's January 17th, 2018. There's a new Fortnite update, the biggest one to date. Players are reading the patch notes to discover that there's a brand new named location that goes by the name of Tilted Towers. You're curious and drop straight down to the new location.
Little did you know that 70% of the lobby have dropped down at Tilted Towers causing absolute mayhem. You have no idea whether the footsteps are above or below you. You get your first kill, but there's more players coming for you. Your adrenaline is rushing. This is now your favorite location to drop.
It's been three years since the release of Tilted Towers in the v2.2.0 update. Unfortunately, it was destroyed in the unvaulting event that took place in chapter 1 season 8. It was then rebuilt into NEO Tilted in season 9, changed to a wild west themed town called Tilted Town where players couldn't build.
It was finally replaced with Gotham City in the v10.31 update and never made a proper appearance since then. Data-miners noticed on day one of Fortnite chapter 3 season 1 that Tilted Towers was added back to the map but was buried and frozen underneath snow known as Frosty Fields.
Knowing that Tilted Towers would make a come back to Fortnite, players were wondering when exactly it would return. It made perfect since to return near the day it made its first appearance. The return date for Tilted has now been confirmed in a tweet.
Tilted Towers Fortnite Return Date
The official Fortnite Twitter account, @FortniteGame, recently tweeted "one more sleep" with an emoji of towers. That all but confirms Tilted Towers will be coming back to Fortnite in chapter 3 season 1 on January 18th, 2022 when the new update releases.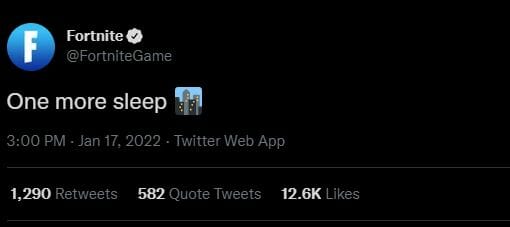 In the official Fortnite Chapter 3 Character trailer, who if the first character shown?
Which one of these is not a new weapon this season
There are seven new Battle Pass skins not including the secret skin. Which of these is not the name of a Battle Pass skin?
Where is The Sevens hidden home on the map?
Which one of these is NOT a landmark in Chapter 3?
When Did Chapter 3 Season 1 Launch?
When is this season (chapter 3 season 1) scheduled to end?
What is the rarity of the Wooly Mammoth Glider?
Which of these features were added in Chapter 3 of Fortnite?
What's the name of this seasons Starter Pack
What's the code name for the new map?
Which of these POIs is NOT on the Chapter 3 map?
How many V- Bucks can you earn if you unlock all of the rewards from this seasons Battle Pass?
How many Loading Screens are there in this seasons Battle Pass?
When did the Chapter 2 finale event take place?
What is the name for Chapter 3?
On what page of the Chapter 3 Battle Pass will you find the Lunar Charge Emote?
A new item, Guzzle Juice, was added this season. What does it do?
What is the name of the additional Skin for Chapter 3, that is not yet released?
When were the Spider-Man Mythic Web Shooters added to the game?
Fortnite C3:S1 Quiz
You're FlyTrap! Better luck next time!
You're Grimbles! Sucks to be you
You're Shadow Midas! Congrats!
You're Spider-Man and a sweaty FN player!
The Fortnite Status Twitter account confirmed that the update v19.10 will release on the 18th. It seems like Tilted will return exactly how it appeared when it was first added to the game, but we'll need to wait until tomorrow for confirmation.
As someone who's played Fortnite before Tilted Towers released, we're beyond excited by the return of this beloved location. There's only one thing left to say, we'll see you in Tilted.