Players are wondering where Croft Manor is in Fortnite. Here's where to find it along with a mystery at croft manor walkthrough.
Last year in March, Epic Games revealed the Mystery at Croft Manor experience. It's a creative map that tasks players with completing the mystery at Croft Manor experience in order to unlock a special Lara Croft Spray.
There are strange light effects coming from within the manor. Players must travel the home to uncover its mysteries with your squad. When it was first announced, it was only available as a featured map for seven days, but players could still play it after.
Here's where the Croft Manor is in Fortnite, the creative code for the map, and a quick walkthrough.
Where is Croft Manor in Fortnite (Creative Map Code)
The Croft Manor in Fortnite can only be accessed in creative, it's not on the main map. The code for Croft's manor is 0116-9392-3142.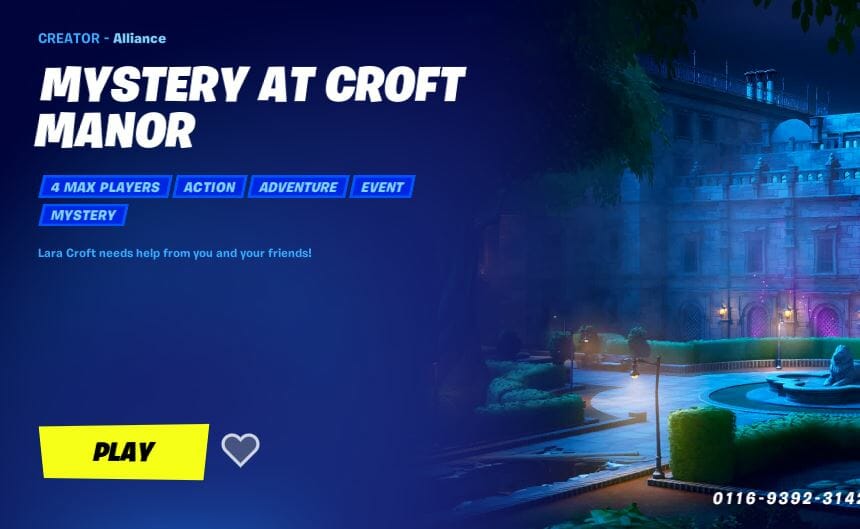 Mystery at Croft Manor Fortnite Walkthrough
Players need to find all the puzzle pieces to complete the mystery at Croft Manor in Fortnite. Here's a walkthrough on how to get them all:
When you start the game, walk forwards, read the letter on the table and then head to the stack of boxes on your right. You'll find the first puzzle piece there. Once you've collected that piece, head up the stairs, go left, go through the opening in the grey brick wall, and turn right. Head through the door on your right.
Once you're in the room, jump on the boxes you saw on your left, and directly on your right, you'll find another puzzle piece. The rest of the walkthrough can get quite complicated, so we've added a YouTube video below that runs through everything you need to do to complete the mystery at Croft Manor.