Here's the location of Mount F8 in Fortnite chapter 2 season 8 in order to find the bottles of Stone Grey.
Alien Artifacts were introduced last season. Collecting them would unlock different customizable options for the Kymera skin. Now we have a new season, the artifacts have been removed and been replaced with two different objects.
Players need to collect both rainbow ink and color bottles. The color bottles are found at specific locations mentioned when you view the color system for the Toona Fish skin. The rainbow ink is found in chests, although there isn't a 100% chance you'll get them from chests.
In order to unlock the stone grey style for Toona Fish, players need to find bottles of stone grey on Mount F8. Mount F8 has been used for many different challenges since the launch of chapter 2. However, it's had a name change this season and players have been wondering where Mount F8 is in Fortnite.
We've created a quick guide to help you find the location of where Mount F8 is in Fortnite season 8 along with where the three stone grey bottles are located.
Where is Mount F8 in Fortnite Season 8?
The Mount F8 Fortnite location is on the south side of the map. It's south of Misty Meadows and we've highlighted the location on the map below.
When you drop down at Mount F8 in Fortnite, you'll see the stone grey bottles on the mini map. You'll also see a glow from the bottles which should be easier to spot. However, we've included the location of the three stone grey bottles on the map below.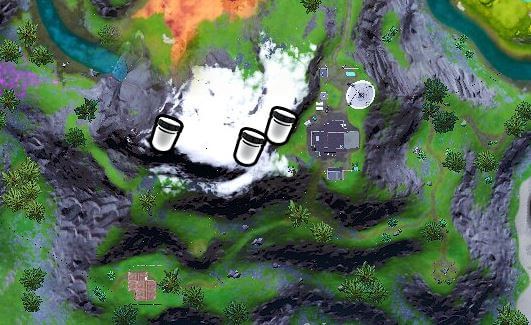 There's a total of 21 color bottles you'll need to collect for different color options for the skin as well as being able to unlock the character styles for Toona Fish. We'll be publishing guides on most of the bottle locations as soon as possible.