Is Rick Sanchez in Fortnite? If so, where is his Fortnite season 7 location.
Before a new season of Fortnite begins, Epic Games release teasers on social media to create hype for the upcoming season. The build up to season 7 was no different with three teaser images with captions on Twitter, Facebook, and Instagram.
The third teaser featured the butter robot from Rick & Morty in the middle. Rick and Morty fans were quick to point out the upcoming collaboration, but we didn't know how big the collaboration would be.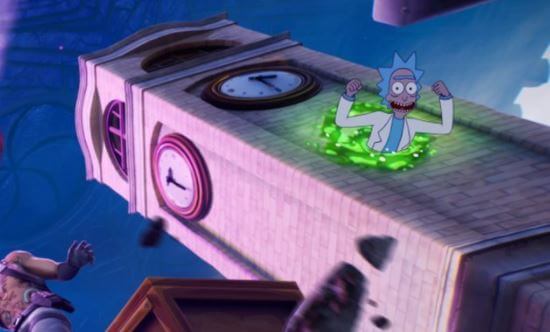 Before the servers were up, data-miners posted a loading screen which showed Rick Sanchez coming out the side of one of the buildings. From that, it was easy to predict that Rick Sanchez would be a Fortnite skin and the Butter Robot would be a back bling or pet.
Players have been wondering if Rick Sanchez is in Fortnite as an NPC. The answer is yes. Here is where you can find him on the Fortnite chapter 2 season 7 map.
Fortnite Rick Sanchez Location
Rick Sanchez is the 12th NPC as listed in the NPC collection book. Rick will sell bandages and have the server to activate a rift for you. His most useful service is probably the fact that he sells nuts and bolts which are hard to come by.
He will have 8 sets in stock in each game and one set of them will cost you 25 gold. For those of you that have not come across Rick Sanchez in Fortnite yet, you'll find him near the center of the map at the Defiant Dish location which is north west of Primal Pond and west of Gorgeous Gorge.
Here's the exact map location for Rick Sanchez in Fortnite: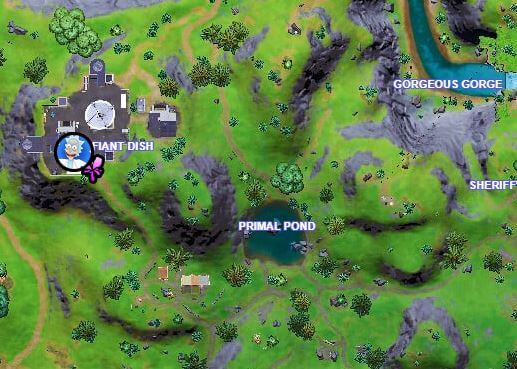 There's a chance we'll be able to buy a new Fortnite weapon from Rick in the near future. The trailer teases a Rick & Morty weapon code named "Bad News!". There is already kill feed text for the weapon which mean it'll likely be in the game soon.