Here's where to find the launchpad in Fortnite chapter 3 in order to complete the receive your next objective at the launchpad and destroy signal jammers challenge.
Fortnite players are enjoying the launch of chapter 3 season 1 with many enjoying the new slide and camping features along with the new map which features three biomes although the snow will disappear after this years Christmas Winterfest event.
Epic have also changed up the challenge UI which makes it clearer and less cluttered than previous seasons. We also have new challenges, one of which require players to receive your next objective at the Launchpad & destroy Signal Jammers. Here's a guide to help you complete the challenge as quickly as possible.
The Launchpad in Fortnite Chapter 3 Location

Players have been wondering where the launchpad is in Fortnite chapter 3 season 1. It's a new location on a brand new map, so it's not surprising that people have no idea where it is.
It's not a named location, it's a landmark location on the east side of the map on the largest of the small cluster islands. Here's the map location:
As soon as you land there, you'll have received your next objective. There's no need to talk to an NPC or perform a certain task in order to complete this step.
Where are and how to destroy signal jammers
You need to destroy a total of three different signal jammers in Fortnite to complete this challenge, You can find each one on the same island where the launchpad is. From the launchpads, look to your left and there's a building there, around the building will be the location of where you can find and destroy one of the Fortnite signal jammers in chapter 3.
When you go up to the signal jammer, a small sound clip from The Scientist will play, after that, you can swing your pickaxe at it to destroy it. Here's what they look like in-game: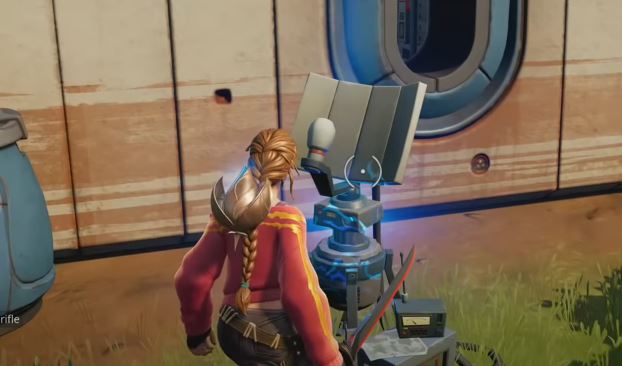 From the above location, head towards the water and you'll find another jammer between three palm trees. On the other side of the small island, you'll find another one near the boat dock.