How to collect treasure using Drake's map in Fortnite chapter 3 season 1.
Epic Games have turned up the amount of collaborations they have in Fortnite. The first collaboration we had was in chapter 1 season 4. We had a few more during the season, but it's nothing in comparison to the amount of collaborations we get since the launch of chapter 2.
Epic Games recently announced the Uncharted x Fortnite collaboration, which includes cosmetics that are available to purchase in the item shop along with Drake's treasure map, which was added to the game last week.
Here's how to complete one of the week 12 challenges, which require players to collect treasure using Drake's map in Fortnite.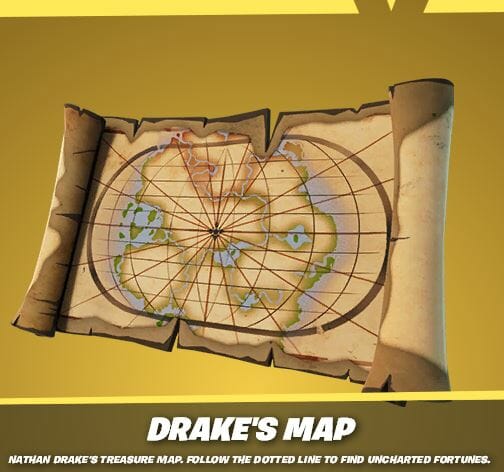 Uncharted Drake's Map Spawn Locations
There aren't any specific spawn locations for Drake's map in Fortnite. However, you can find them in chests and as floor loot. If you want to increase your chances of finding one, you can drop at locations that have a high chest count along with floor loot. One of these locations is The Daily Bugle.
If you'd rather not drop in a highly contested named location, head to Chonker's Speedway or Logjam Lumberyard. Once you had Drake's Fortnite map, you can complete the challenge.
How to Collect Treasure in Fortnite Using Drake's Map
When you have the map, you need to select it in order to complete the challenge. You'll see a golden beam where you can collect treasure when you equipped the map. There will also be red markers to point you in the right direction.
Once you get to the gold beam, you'll see an "X" on the floor. Pickaxe away at the cross in order to dig up a treasure chest. Open it up and you'll have completed the collect treasure using Drake's map week 12 challenge.