There are two new mythic Fortnite items with the release of the Dragon Ball x Fortnite collaboration. Here are the locations where you can find the Dragon Ball Nimbus Cloud and Kamehameha in Fortnite chapter 3 season 3.
After months of rumors and leaks, Epic Games officially announced the Fortnite x Dragon Ball collaboration yesterday with an image along with a link to one of the two YouTube videos that went live today at 4 AM ET.
There's a Dragon Ball x Fortnite gameplay and cinematic trailer on the official Fortnite Game YouTube channel. The gameplay trailer revealed a couple of Dragon Ball-themed locations that have been added to the map along with the cosmetics.
There's also gameplay of two mythic items that have been added to Fortnite as part of this collaboration; the Nimbus Cloud and Kamehameha. Thanks to data miners, we have all the information we need for the two new mythic items.
Here are the stats for the Nimbus CLoud and Kamehameha mythic items along with the spawn locations of where you can find them on the map.
Fortnite Nimbus Cloud and Kamehameha Stats
The Kamehameha will deal 100 damage on impact and forty damage per second according to popular data miner Hypex. The damage on builds is 240 on impact and 240 per second. The charge duration for the Kamehameha in Fortnite is 1.2 seconds with a 3-second beam duration and a 15-second cooldown.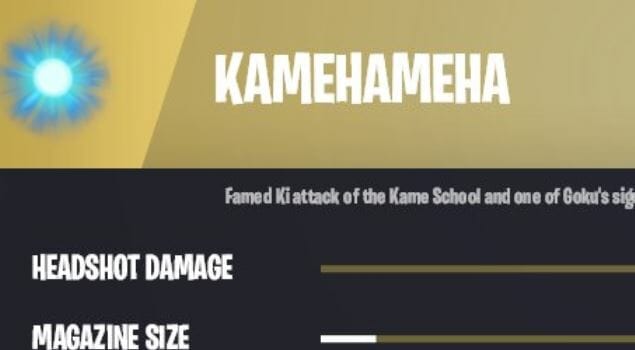 As expected, there are no stats for the Nimbus cloud Dragon Ball Fortnite mythic item. However, the description reads, "an extraordinary cloud that Goku rides. Leap high into the air and then glide on the Nimbus Cloud". This means it essentially works like the brooms that were first introduced during Fortnitemares.
Where to find Nimbus Cloud and Kamehameha in Fortnite
According to the blog post detailing everything the latest collaboration has to offer, Epic state the Kamehameha's will fall from the sky throughout each match meaning there are no set spawn locations.
More capsules containing the Kamehameha will spawn as the storm closes, so be sure to keep an eye out to grab yourself the power of a Kamehameha. We don't have any information on where players can find the Nimbus Cloud right now, but we'll update this as soon as we do.