Here's the location of where to find the Fortnite Season 10, Week 9 hidden secret Battle Star for the Ready or Not limited time mission loading screen.
We're just over a week away from season 11 of Fortnite Battle Royale. We're officially into week 9 of the season, and there's only one more hidden Battle Star after today's new Battle Star loading screen is available to unlock.
Usually, there's only 5 loading screens that provide a hidden Battle Star, however this season we've had a Battle Star every week from the limited time missions. The only catch is that there's only 7 days to complete 3 challenges. Once a limited time mission is gone, there's no way to complete the challenges in the future.
The third challenge for the Ready or Not mission that was made available on Thursday has now been unlocked. Players who complete all 3 available challenges/objectives will unlock the week 9 loading screen that provides the location of the hidden Battle Star. We've created a location guide below to take the guess work out of collecting this week's Battle Star.
Where to find the Season 10, Week 9 Secret Ready or Not Loading Screen Hidden Battle Star Location
The week 9 loading screen that you'll unlock after completing 3 Ready or Not challenges can be seen below:
As always, there's a hidden hint as to where you can find the hidden Battle Star for week 9. If you look closely, you'll find a scribble of a tomato head on the top middle of the loading screen, just above the barbed wire and to the right of the yellow arrow.
That means that the week 9 hidden secret Battle Star will be on or around the Tomato head that you can find on the Fortnite Battle Royale map.
If you're not sure where the Tomato Head currently is on the map, you can find it in between Lazy Lagoon and Pressure Plant. The area is marked out lightly on the map. Here's the exact location:
You'll find the Battle Star on the crown on the head. Here's the exact location shown in-game: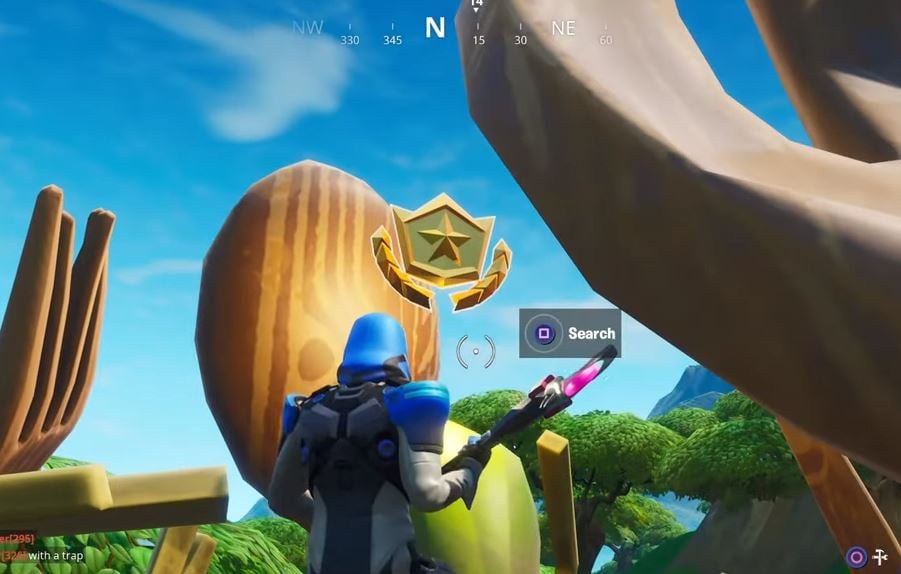 Simply search the Battle Star in order to collect it. Remember, you must have completed the 3 challenges and unlocked the loading screen in order to see and collect the Battle Star.