There's a new challenge for the Vibin' quests that tasks players with finding and interacting with Party Poppers in the Rave Cave. Here are the locations where you can find them.
Every week, Epic Games release new quests for players to complete in order to help them level up quicker. Players have been complaining about the XP this season with players struggling to make any significant progress in leveling up even after putting in numerous hours into the game each day.
Thankfully, there have been some XP changes that have made it easier to level up, and we have new quests today that will help players level up even quicker this week.
The new challenges are called Vibin', and the quests are staged challenges. It looks like players can earn two free cosmetics by completing these Vibin' challenges including a spray and a back bling.
One of the challenges requires players to interact with Party Poppers in the Rave Cave. For those struggling to complete the challenge or those of you that are looking for a guide to try and complete the challenge as quickly as possible, we have a quick walkthrough below.
Party Poppers in Rave Cave Fortnite Locations
Head into the Rave Cave from the northeast side where you have to walk down the stairs. Head towards the right and into the airplane, you'll find your first party popper as shown in the image below:
Head back to the left side and on the stage, you'll find another popper on the left side of the stage. Continue forward on the left side and you'll find another popper in the room that's full of graffiti.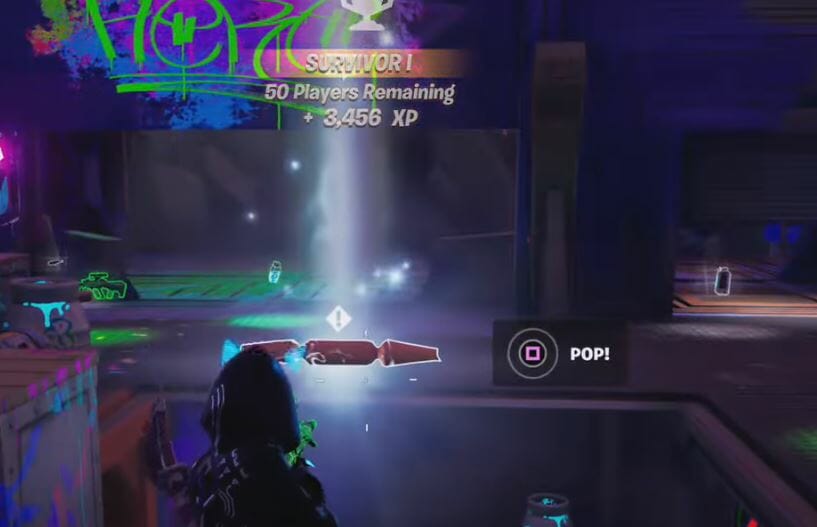 You need five poppers to complete the challenge, however, when you're in the cave, you will see an exclamation mark where you can find all the poppers.