Here's where you can find and knock down TImber Pines in Fortnite chapter 3 season 1.
Another week in Fortnite, a new set of challenges. We're onto week five of chapter 3 season 1. So far, most of the challenges that have been released and straightforward and easy to complete.
Epic Games are catering to new players or those that don't want to go out of their way to complete the challenges. Not only that, but the in-game map helps players complete challenges with ease. That makes sites like Fortnite Insider less useful, which is why we decided to over other games in addition to our usual Fortnite content.
Anyway, one of the week five challenges requires players to knock down Timber Pines. Here's where you can find and knock down Timber Pines in Fortnite chapter 3.
What are Timber Pines in Fortnite?
Timber Pines is a tree with a light brown trunk. The normal trees have a darker trunk than the pines. When you knock one down, you'll see them actually fall down unlike the standard trees. This is a feature that was added with the launch of chapter 3 now that the game runs on Unreal Engine 5.
Fortnite Timber Pines Locations
One of the best locations to find the locations of Timber Pines in Fortnite chapter 3 in order to knock them down is on the west side of Shifty Shifts near the bridge that's south of the location.
Here's the exact map location of the best place to drop to complete this challenge: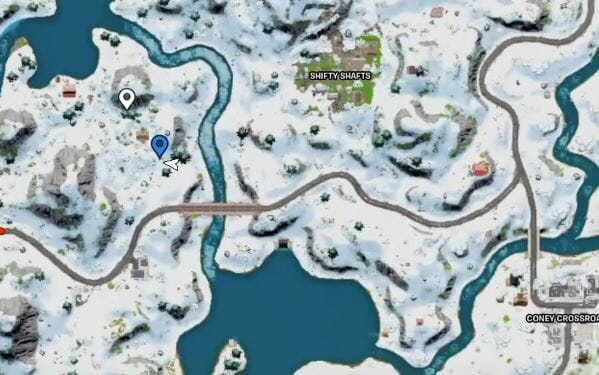 To knock them down, simply swing your pickaxe at them until they drop. You'll need to knock down a total of five in order to complete this challenge which shouldn't take long at the above location.
Sometimes, you might knock down one tree which will then fall onto the closest Timber Pine which will then knock that one down. This should count towards your challenge.