Epic Games have disabled Fortnite arena today (June 3, 2022).
Fortnite chapter 3 season 2 is coming to an end tomorrow. Players will be able to experience the Collision live event, and once it's over, the season will end with the game going into downtime until season 3 launches on Sunday.
Epic Games started the season off by making drastic changes to the game. Not only did they add new movement mechanics including tactical sprint and mantling, they disabled building.
Although the removal of building was short-lived, it forced players to use the new mechanics before building was added back, albeit a few days later due to issues adding the feature back into the core game modes.
Unlike in previous seasons in the current chapter, there haven't been any major issues with the servers. However, there have been a couple of issues with Fortnite Arena.
Unfortunately, it looks like there are more issues with Arena today (June 3, 2022), and here's everything we know.
June 3 2022 Arena Not Working in Fortnite
This isn't the first time there have been issues with Arena this season. on March 21st, players were reporting that they couldn't load into an Arena game. Thankfully, the issue was resolved in a couple of hours.
Today, players were reporting that they either couldn't see Fortnite Arenas on their play list, or it was greyed out, preventing players from playing.
Epic Games have put out a tweet on the Fortnite Status Twitter account that states why it has been disabled. However, they don't provide much information and only state that due to an issue, Arena playlists are temporarily disabled.
The Tweet ends with Epic stating they will update players when it returns.
Here's the official tweet: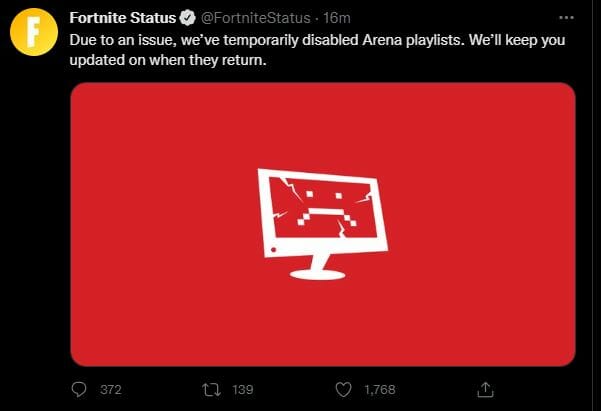 We'll update this article when the playlist is working as intended. Be sure to check back soon.