Epic Games released a new Xbox Fortnite patch update on May 23rd, 2022. Here's what you need to know about the new release.
We're just under a couple of weeks away from a new season of Fortnite. Although the season got off to a great start with Epic Games adding new mechanics including mantling and tactical sprint, the season got boring fairly quickly.
Building was removed for just under two weeks, which a large portion of the player base heading into the new season was unhappy with. However, it seems to have brought back a number of players from the first chapter, myself included.
Epic no longer has content-filled patch updates every week. Although there is a major patch that's still released every two weeks, they usually don't have much content.
Most of the patch and content updates usually include an old item returning to the game with the occasional map changes. However, new seasons usually have a lot more content and players have been counting down the days until season three.
However, we still have a live event that should be taking place this weekend, likely on Saturday. Data miners leaked that a live event would be happening, and the 20.40 Fortnite update saw a doomsday device being added near Tilted Towers.
After 20.40, we weren't expecting a new update. However, a few days later, a maintenance patch was released across all platforms to fix performance issues. For Xbox players, there's another download release to install today on May 23rd, 2022.
Xbox Fortnite May 23rd, 2022, Update Notes
As expected, there's no new content today. The Fortnite Status Twitter account tweeted that a new downloadable update was pushed for Xbox One and Xbox Series X|S players.
The maintenance patch addresses stability issues that have plagued Xbox players since the last major release. Here's the official tweet: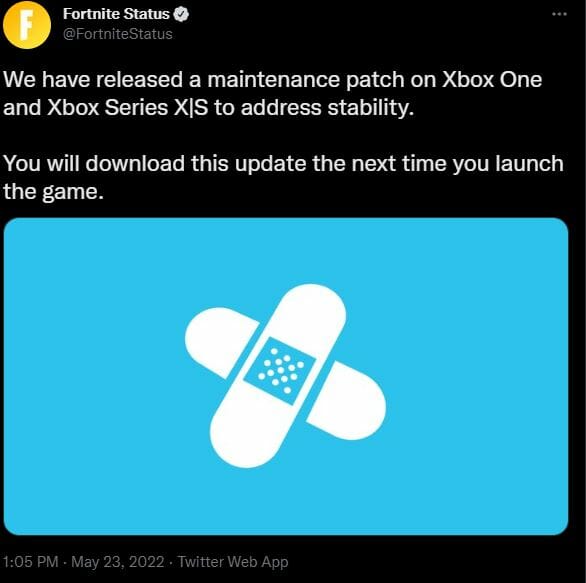 The new season is expected to launch next weekend. However, we'll likely get confirmation of the new season and live event date and time within the next few days.