Here's all the locations where you can find campfires in Fortnite chapter 3.
We've almost had all of the Winterfest challenges release. Players can get both of the rewards from the challenges, the glider and the back bling. However, players will likely complete the other challenges that are yet to release because of the 18,000 XP they provide.
Most of the challenges have been straightforward especially in comparison to last year. However, as we have a new map that released earlier this month, not everyone knows the spawn locations of certain NPCs or campfires.
One of the Christmas challenges requires players to Light a campfire while having icy feet and here are all the locations where you can complete this challenge in chapter 3.
Fortnite Chapter 3 Campfire Locations
You only need to light a campfire while having icy feet once to complete the challenge. In order to get Icy feet, you'll need a chiller grenade. Here's a guide on the best places to get icy feet in chapter 3.
Once you light a campfire with icy feet, the icy feet effect will disappear. There are a number of spawn locations for campfires in chapter 3. You'll want to land in a location with a lot of floor loot or chests that also has a campfire nearby.
Here's all the locations where you'l find a campfire in chapter 3: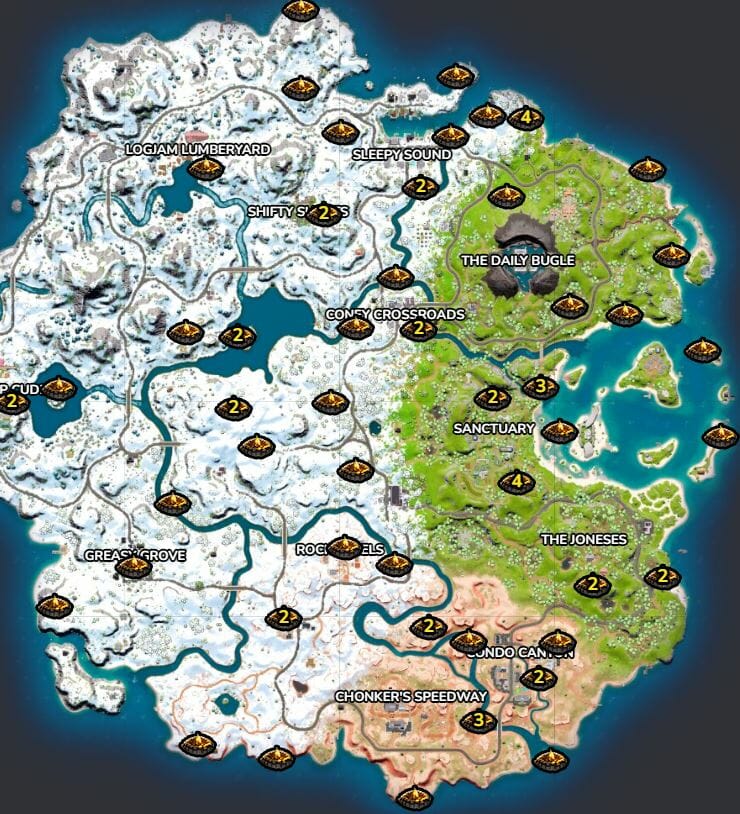 After this challenge, there's another three to complete. You'll have until the Winterfest event ends to complete all the challenges. The event is scheduled to end on January 6th. If you haven't opened all of your presents, you still have more than a week to do so.