All twelve of the Endgame Challenges are now live in Fortnite. Here are all the challenges and rewards you will get from these challenges.
The Fortnite x Avengers: Endgame collaboration has brought a new LTM (Limited Time Mode) called the Endgame LTM and there are Endgame Challenges that have also been released for this event. Three challenges have been going live every day and now the final three have just been unlocked. Here are all the challenges you need to complete and the rewards for completing each one.
FORTNITE ENDGAME CHALLENGES – DAY 1
Deal damage while hovering with Iron Man's Repulsors (1,000)
Collect Infinity Stones (3)
Play matches of Endgame (7)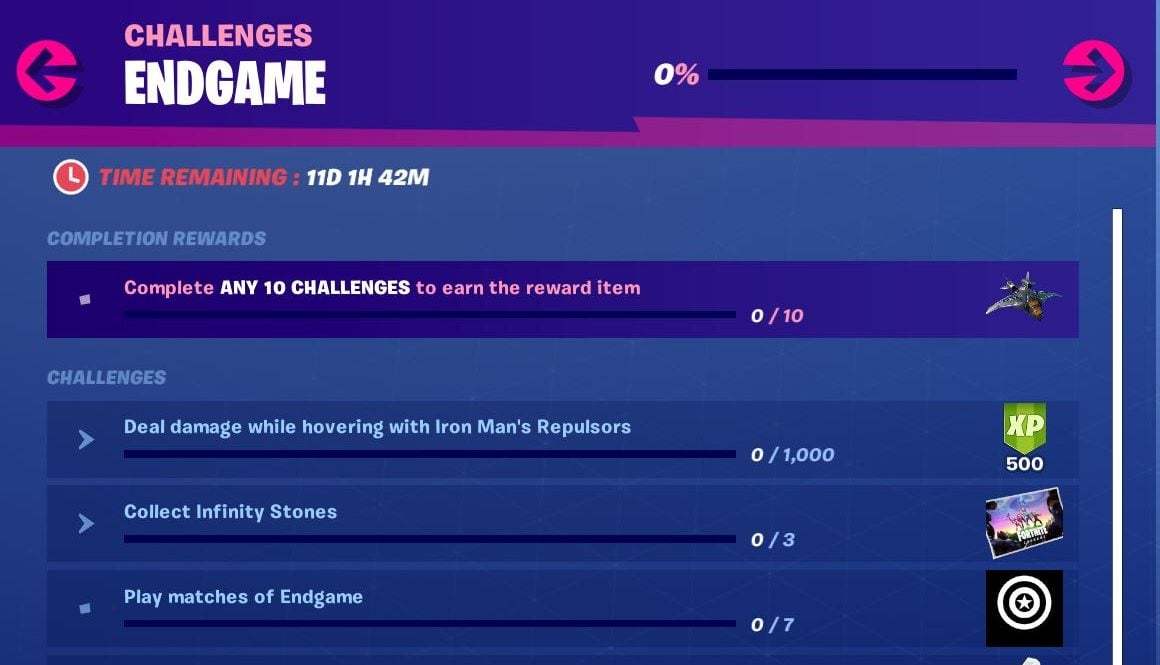 FORTNITE ENDGAME CHALLENGES – DAY 2
Deal damage by throwing Thor's Stormbreaker Axe (1,000)
Deal damage while flying with the Chitauri Jetpack (100)
Eliminations in different matches of Endgame (5)

FORTNITE ENDGAME CHALLENGES – DAY 3
Deal damage with Captain America's Shield (1,000)
Deal damage with the Chitauri Laser Rifle (500)
Win matches of Endgame as Chitauri or Thanos (3)
FORTNITE ENDGAME CHALLENGES – DAY 4
Deal damage within 10s of grappling with Hawkeye's Bow (500)
Deal damage with the Chitauri Energy Launcher (500)
Win matches of Endgame as the Hero Team (3)

Once you have completed 10 of the 12 challenges, you will be awarded with the Quinjet Glider. You can see the Quinjet glider in-game here.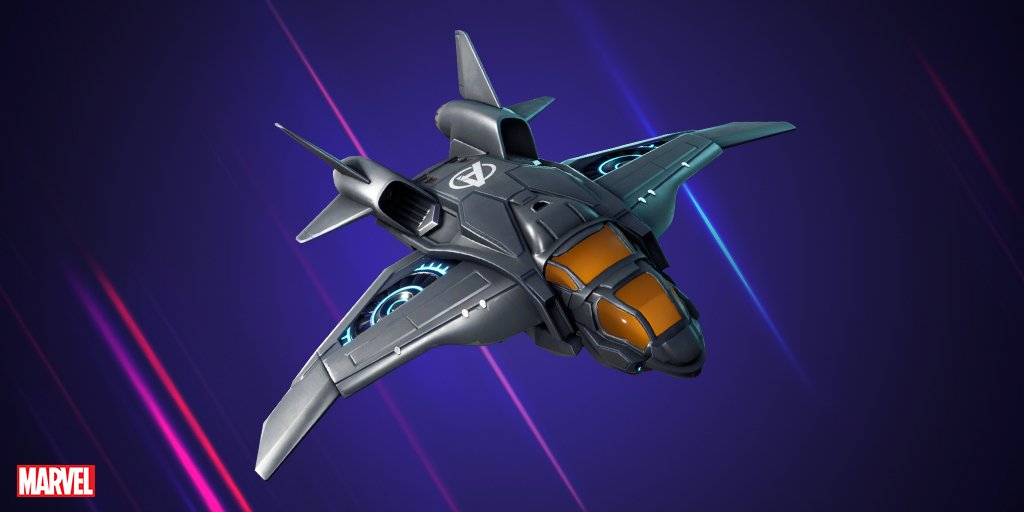 Once the event has ended, you will not be able to complete the challenges and claim your rewards, so make sure you complete them before it's too late! All of the challenges will need to be completed in the Endgame LTM and if you haven't played it yet, here's a summary of the mode.
There are two teams, Thanos/Chitauri and the Avengers/Heroes. Both teams will respawn once eliminated until the other team has completed their objective. The Heroes will spawn with a treasure map that will lead them directly to an Avengers item and other Avengers items can be found in chests throughout the map. The Avengers items you can get are:
Captain America's Shield
Iron Man's Repulsors
Thor's Strombreaker Axe
Hawkeye's Bow
Thanos' team, made up of the Chitauri, have the objective of collecting all the Infinity Stones and each time a stone is claimed, Thanos' abilities will be heightened. There are a total of six stones to be collected, and here are the abilities for each.
Reality Stone (Red) = Heath & Shields doubled (1000->2000)
Soul Stone (Orange) = Siphon activated (grants Thanos shields only)
Mind Stone (Yellow) = Jump height doubled
Space Stone (Blue) = Ground Pound AOE size tripled, damage x6
Time Stone (Green) = Big knockback added to each hit, damage x3
Power Stone (Purple) = Laser damage x6
The first person on the Chitauri side to get a stone will transform into Thanos and once Thanos has been eliminated, another team member will transform into Thanos after a short period of time, providing Thanos is not the last one standing.
Once all stones have been found, Thanos and the Chitauri will need to eliminate all the Heroes in order to win.