Everything you need to know about the best Fortnite creative maps to farm unlimited XP with the chapter 3 glitch including whether you can get banned for XP glitching in Fortnite.
With the launch of every new season of Fortnite, Epic Games manage to introduce an XP glitch and chapter 3 season 1 is no different. At the start of the season, players want to level up as quickly as possible.
Most players don't buy all the Battle Pass tiers but still want to unlock all the cosmetics as soon as possible. Last week in the v19.01 update, Epic Games added in the super styles, giving players more motivation to level up as fast as possible.
There have been several Fortnite chapter 3 XP glitch methods that have been exploited. Some have allowed players to level up extremely quickly with no effort needed at all.
In a couple of updates, these Fortnite chapter 3 XP glitches have been patched. However, players keep finding new creative map codes where they can XP farm. It seems like each day there's a new method from a creative map code that allows players to level without effort.
Here's everything you need to know about farming XP in creative map codes in Fortnite chapter 3.
Fortnite XP Glitch Chapter 3 Best Creative Code Maps
A lot of the Fortnite chapter 3 season 1 Xp glitches players use to farm XP in creative map codes have already been patched. However, there are some that are still working as of December 19th, 2021.
One of the best creative map code glitches is 1478-6145-6503. If you're on console, you'll want to type is 233 or v233 if you're on a PC as shown in the screenshot we've taken from Shuffle Gamers YouTube channel:
Once you've selected this creative map, press start and wait for the screen where it says "waiting for players". Once you've loaded into the creative map, turn to the right and jump up to the wall that says "Play with others". It'll also say "enter matchmaking" when you're jumping up as seen in the image below.
As soon as you interact with that invisible button, you'll get free XP just by standing there. This is the best XP glitch in chapter 3 due to the fact you don't actually need to do anything.
Once you're 10-15 minutes in, you'll get around 100,00 XP just by sitting or standing in that exact same spot, making it the best and easiest way to farm XP in creative and level up.
There's another creative map code which can apparently give you more XP than the method above. Enter in the creative code 3794-8637-4359 and wait for the auto start to runs down and you'll spawn in an area as seen below and you'll want to run to the safe area: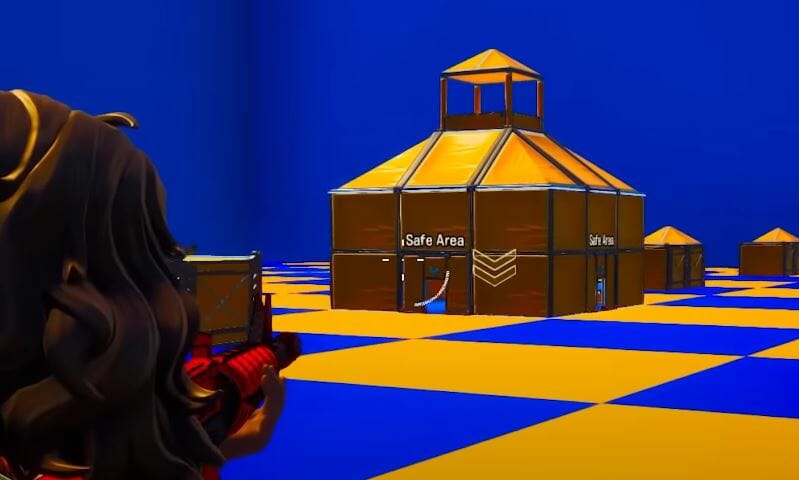 Once you're there, this is where it gets tricky. Jump on the box that's on the right of the "favorite this map" text on the wall. Then jump onto the favorite this map text and try to run onto the wall until you're at this point:
Once you're at this point, emote and you'll be teleport to another area of the map. Then emote again in the new room and then head into the door that says "store". Go to your inventory and drop all items.
Go the flint-knock pistol vending machine and use it and you should get a ton of XP each time you buy. If you just stand there once you do the above steps, you'll be able to farm XP using this Fortnite chapter 3 XP creative glitch.
This Fortnite chapter 3 XP glitch will likely get patched, but we'll post a new one if YouTubers come across another one.
Can you get banned for xp glitch in Fortnite
Players are wondering if you can get banned for doing XP Glitches in Fortnite. To date, we haven't seen another get banned for farming XP in creative, but there's always the slight chance you can get banned.