It's week 7 which means a new set of Deadpool Fortnite challenges for players to complete. This week sees the release of the Deadpool skin in Fortnite.
There's two new Deadpool Fortnite challenges today as players are finally able to unlock the Deadpool Fortnite skin. Before we get into this week's challenges and Deadpool Event, check out all of our guides on the previously released challenges if you haven't completed them yet.
Deadpool Fortnite
Fortnite Week 7 Deadpool challenges glitch, not working, showing, or appearing
Update 1: Epic are aware the Deadpool Week 7 challenges aren't showing up or unlocking and are working on the glitch to fix the missing challenges.
We are investigating issues with missing Deadpool Week 7 challenges for some players.

— Fortnite Status (@FortniteStatus) April 3, 2020
Update 2: The challenges are now working!
How to get the Fortnite Deadpool Skin
In order to get the Fortnite Deadpool skin, all you need to do is complete all of the challenges for Deadpool including the newly released week 7 challenges. According to leakers, the second challenge for week 7 where you need to enter a portapotty of phone both will transform you into Deadpool.
If you're behind on your challenges, check out our guides we linked above to help you complete them as quickly as possible.
Here's what the Deadpool Fortnite skin looks like in-game:
Week 7 Challenges
Here's the week 7 challenges. Click the challenges below if you want to view a guide on how to quickly complete the challenge.
Future Skin Style
In the v12.30 update, Epic Games added a Deadpool Fortnite skin style that will be available for players to unlock upon completing the week 8 challenges. The skin is an unmasked version of Deadpool which you can check out below.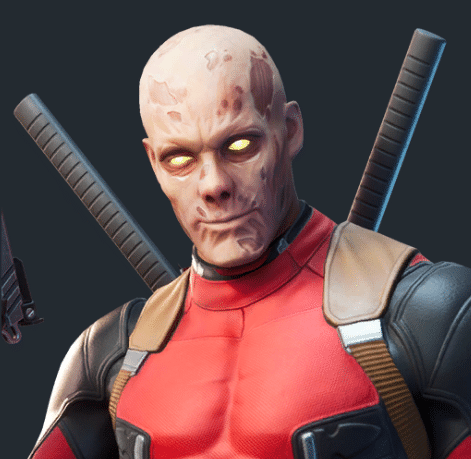 Fortnite Deadpool Event
There'll be a mini Fortnite Deadpool event today. The event was confirmed on the official Deadpool Twitter account. Check out the confirmation of the event below:
According to leaks, the event will include The Yacht being redesigned for Deadpool along with supply drops and the Battle Bus. There'll also be Deadpool Dual pistols, but we're not sure if that'll be releasing today.
You can read more about the event in our dedicated article over here.