One of the challenges Battle Pass players need to complete for Season 5, Week 4 is to jump through flaming hoops with a Shopping Cart or ATK. The flaming hoops have specifically been added to Fortnite Battle Royale for this challenge and this is something we have seen Epic do in the past. Previously, Gnomes and Rubber Duckies were added in random locations in Fortnite and players had to simply search for them to complete the challenge. This week players must use one of the vehicles that have been added to Fortnite to complete this challenge. The locations of the flaming hoops can be found on the map below, but you only need to go through 5 different hoops to complete the challenge:
Having challenges like this helps to disperse players to different areas of the map and to explore areas they may have not travelled to before. As the challenge requires players to jump through the flaming hoops with a vehicle (Shopping Cart or ATK) it is possible to complete the challenge in one match as vehicles help to travel around the map quicker. There are also rifts that help to transport players to different locations quicker, however you do need to be aware that you will get fall damage if you jump with a vehicle.
This is the first challenge we have seen this season which involves vehicles and the ATK is a new vehicle for Season 5. The flaming hoops are located by the ramps that have been spotted around Fortnite.
The location of the ATK's can be seen in the map below, created by  The Squating Dog, but they do not spawn in all areas: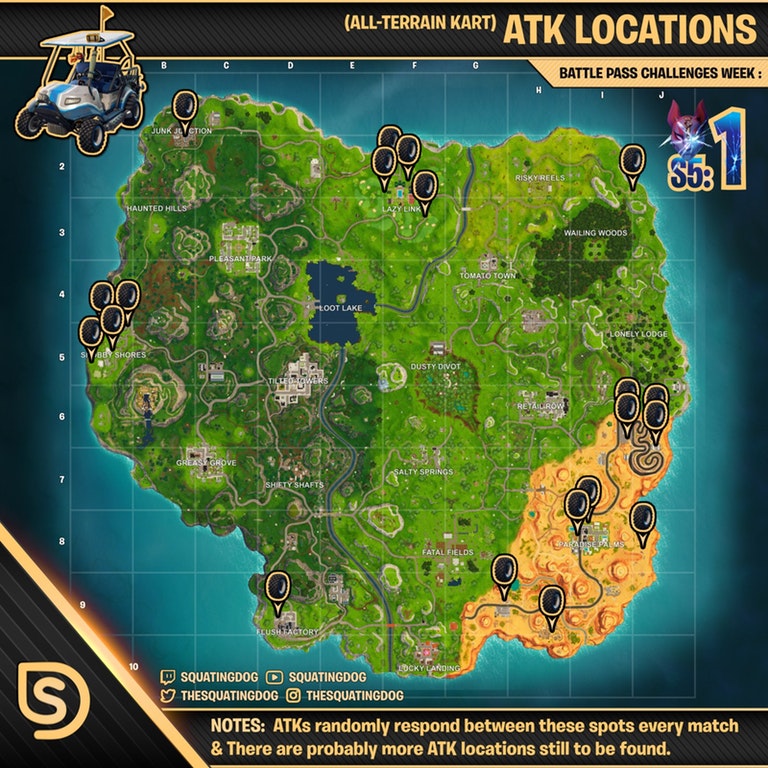 As you can see. the ATK's tend to be found on the outskirts of the map, as this encourage players to go to these locations, knowing they could potentially find an ATK and get out of the storm in time.
Want to read more? Check out this article:
How to Complete the 'Search between a gas station, soccer pitch, and Stunt Mountain' Challenge