Here is how to complete the secret mission for the Coral Buddies: Reach for the Stars Fortnite Challenge.
In Fortnite Battle Royale, new challenges are released on a weekly basis, and completing these challenges awards players with 35,000 XP each. Epic also introduced Team Challenges a couple of weeks ago and one of these challenges are released with the weekly challenges and upon completion, awards 80,000 XP to help you to level up in this seasons Battle Pass.
This season, Epic have also been releasing Secret Missions/Quests, where upon completion rewards players with more XP. There are a few of these challenges that involve the Coral Buddies, with two secret missions being released today. This article will show you how to complete the Coral Buddies: Reach for the Stars Quest and the other one will be linked at the end of this post.
To find all the secret missions this season, you can click here for all the guides on how to complete them.
Fortnite Coral Buddies Secret Mission – Reach for the Stars
In order to complete this challenge you will need to go to the give the Coral Buddies 100 metal in order for them to make a rocket ship. You will find the Coral Buddies located on B1 of the map, north of Coral Castle, as marked on the map below:
It will be best to get the metal first, and you can get the metal on the small island located just southwest of the Coral Buddies island. The easiest place to farm the metal is at the helipad. You can break the sides of the helipad spot to get the 100 metal.
Simply give the 100 metal to the Coral Buddies in order to complete the challenge and get an easy 25,000 XP. You will get a notification on the left hand side of the screen to show you have completed the Coral Buddies Reach for the Stars mission and you will also be awarded with the "To Infinity and Beyond!" legacy, as seen below: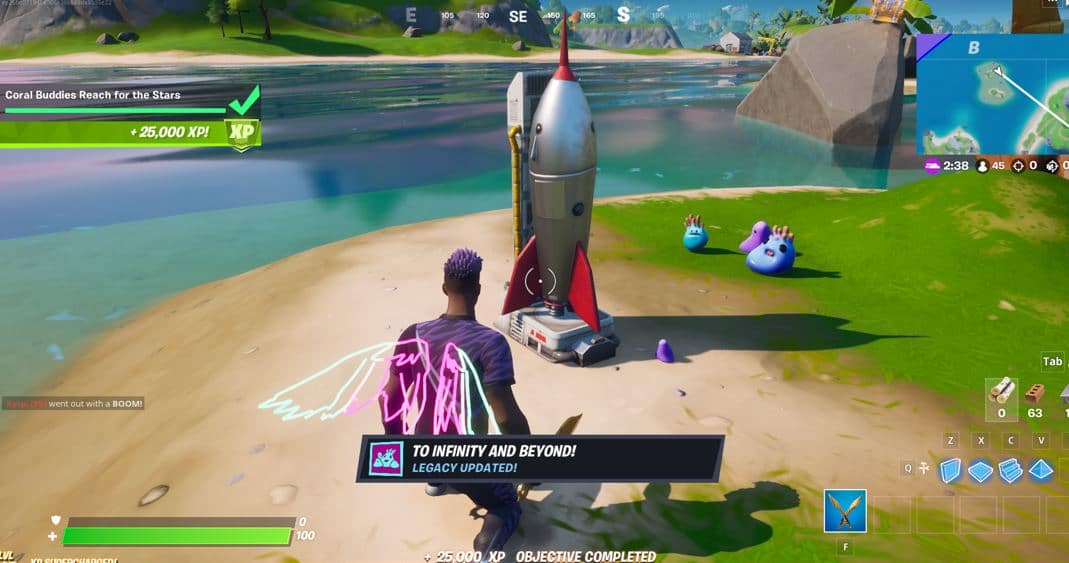 As previously mentioned, there is another secret mission you can complete, which is called Enter the Nuclear Age Quest. This mission will also grant you XP and you can see how to complete this challenge by clicking here.