Epic Games have updated the Fortnite Item Shop for the 25th April (again). The shop features a Fortnite Avengers Skin, Black Widow, along with the Widow's Bite Pickaxe and Widow's Pirouette emote.
Epic Games have teased their collaboration with Marvel's Avengers: Endgame movie, releasing three different teaser images featuring Captain America's Shield, Iron Man's Repulsors and Thor's Stormbreaker axe.
Epic released the Patch notes and a trailer for the Fortnite Endgame LTM which you can see here. Dataminers also leaked the challenges and rewards for the Fortnite Endgame LTM which can be seen here.
As with every patch update, dataminers leaked upcoming Fortnite skins and other cosmetics, one of which is an Avengers skin, Black Widow. The Black Widow skin also has a pickaxe, Widow's Bite, and an emote, Widow's Pirouette.
Although these skins were leaked, the in-game news feed was updated to announce these skins will be available in the Fortnite Item shop. Servers are slowly going back up, so you'll be able to purchase these skins within the next few minutes.
There'll also be one more Marvel skin set coming to Fortnite soon, likely later tonight when the shop updates again or tomorrow.
Here's the New Avengers Fortnite skin, pickaxe and emote:
If you'd like to support us, use support-a-creator code FORTNITE-INSIDER in the bottom right corner of the Item Shop.
Black Widow Skin (Epic) – 1,500 V-Bucks
Widow's Bite Pickaxe (Rare) – 800 V-Bucks
Widow's Pirouette Emote (Uncommon) – 200 V-Bucks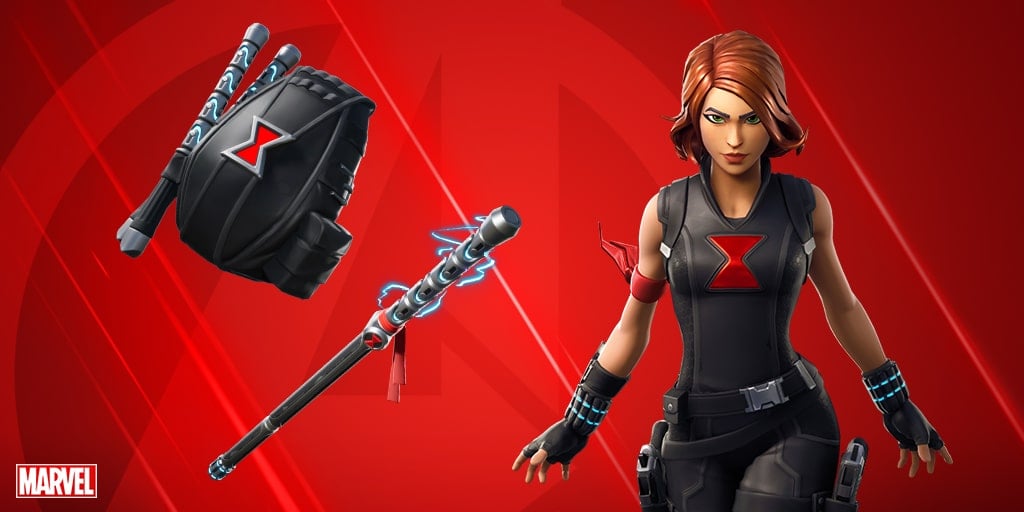 These skins will likely be rare skins and won't be available in the shop in the future.
What are your thoughts on the Fortnite Black Widow Marvel Avengers skin? Let us know in the comments section below!