A new Fortnite Bundle has just been decrypted and here are all of the Skins and Back Blings that are available in the set.
Epic Games are always adding new cosmetics to Fortnite and one way they introduce new cosmetics is a form of a bundle. These bundles can either be available in the Item Shop or in Store.
There were a few cosmetics that were encrypted in the v11.01 update, and data-miner @s1l0x had manged to leak two of the Skins in-game. Data-miners did know that there were more cosmetics that were encrypted, but they could not access them at the time. It now looks like the files have been decrypted and all of the cosmetics that are part of the bundle can be seen below.
'The Reckoning' Fortnite Bundle Cosmetics
This bundle contains three Skins which comes with their own Back Blings. Here are what the cosmetics are called and what they look like in-game, thanks to s1l0x:
Catrina Skin and Mourning Glory Back Bling:
Catrina Skin & Backbling, wasn't able to get her pickaxe! pic.twitter.com/sqYkhul0kj

— Prism (@pr1smdev) October 24, 2019
Willow Skin and Dolly Back Bling:
Willow Skin Set w/ Dolly Backpack pic.twitter.com/U2cYAQOtDt

— Prism (@pr1smdev) October 24, 2019
Blacklight Skin and Indigo Wings Back Bling:
Backlight Skin Set w/ "DarkFireLegends" emote titled "Unification" pic.twitter.com/C6J3U0SHql

— Prism (@pr1smdev) October 24, 2019
Fortnite The Reckoning Pack Release Date
This bundle is currently available in New Zealand, as can be seen in the PlayStation listing here, which means in should be available worldwide in the next 24 hours. Here is what the bundle looks like in the Store: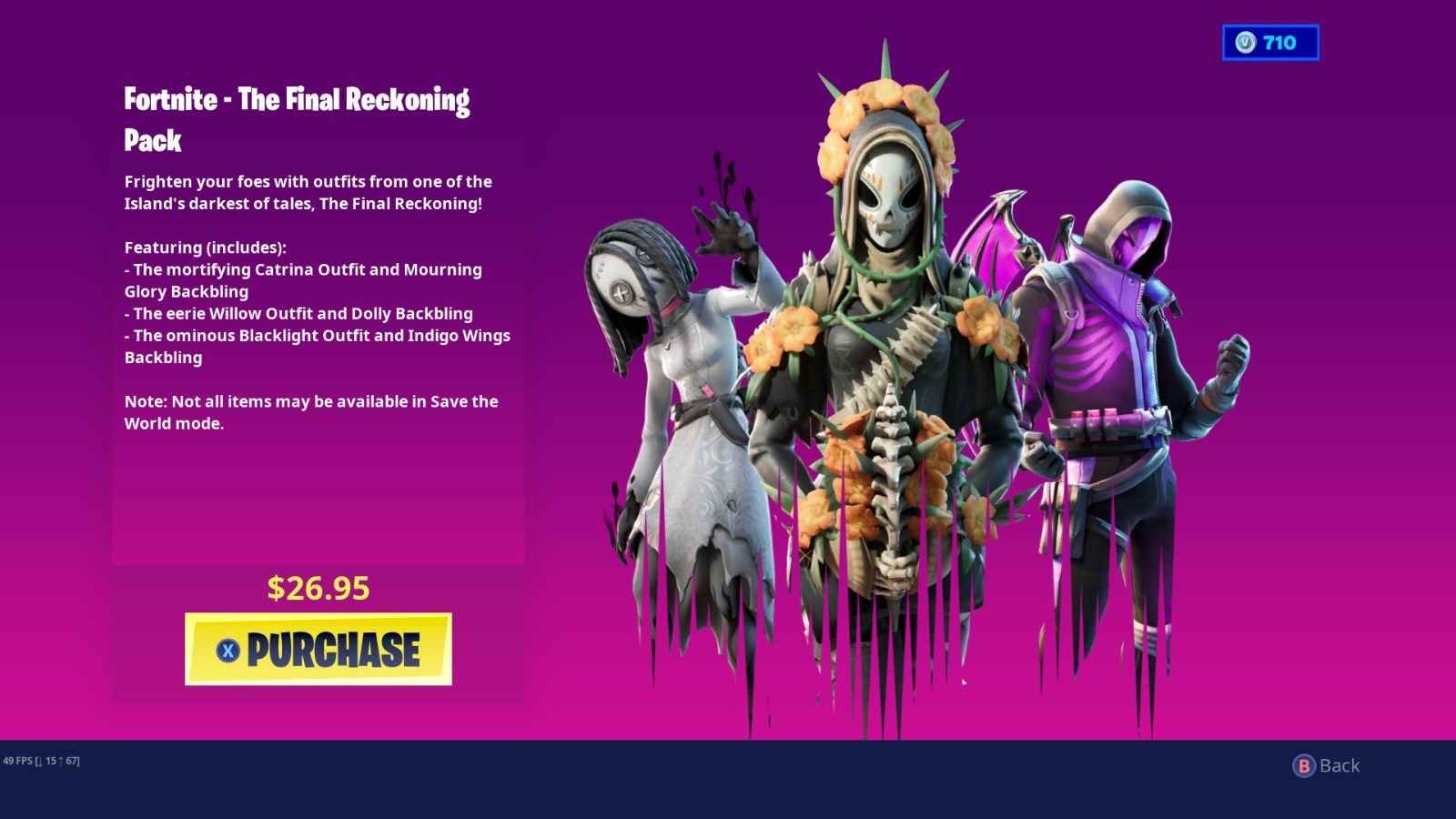 Fortnite The Reckoning Pack Price
Here are the different prices of the bundle:
$26.95 AUD
$19.99 USD
€19.99
£15.99
Data-miners have also found two Pickaxes that are part of the same set, but are not part of 'The Reckoning' Bundle and will be available to purchase with V-Bucks in the Item Shop. Here are what the Pickaxes look like:
Will you be purchasing the Pack as soon as it is available in your country? Let us know in the comments section below.