A new season brings a new set of XP coins location. Here's the Fortnite chapter 2 season 4 week 1 XP coin locations.
If you're looking to level up quickly in order to speed through the Fortnite season 4 battle pass, there's a few ways to do so. You can complete the weekly Fortnite challenges and the secret challenges that Epic Games release.
We already have our first secret challenge that was available on the day of season 4 launching. The secret challenge again focuses on Coral Buddies, and players simply need to visit their small island on the north side of the map. Completing the challenge will provide players with 25,000 XP and the challenge only takes a second to complete once you land. Here's a quick guide on how to complete that challenge.
Epic introduced XP coins to help players level up faster. Fortnite XP coins are added to the map on a weekly basis in a fixed location for everyone. There's green, blue, purple and gold coins for players to collect. Here's the locations of the week 1 Fortnite Season 4 XP coins.
Fortnite Season 4 XP Coins Locations
There's a total of 9 XP coins on the Fortnite season 4 map. There's 4 green coins, 3 blue, and 2 purple coins. When getting the purple coins, they'll break into a number of smaller purple coins, and you'll need to collect them all before the timer runs out and they disappear.
Here's all the week 1 Fortnite season 4 xp coins locations marked on the map thanks to PGG and Everyday Fortnite: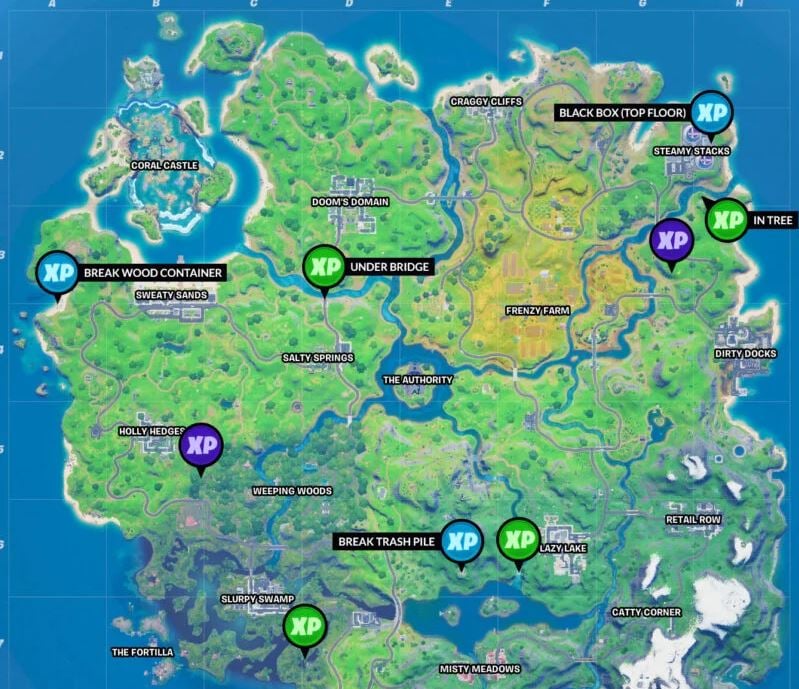 We also have guides on how to complete all of the Fortnite awakening challenges and the week 1 challenges. Be sure to head over to the home page or use the search bar to find what you're looking for.
Be sure to turn on web notifications on the Fortnite Insider website if you'd like to be notified every time a new article goes live!
[quize]