With Season 5 we saw a different layout with the weekly challenge. Before Season 5, there were only seven free challenges for players that had not purchased the Battle Pass, but now there are 3 Free Challenges and 4 Battle Pass Challenges every week. This makes it easier for players that have not purchased the Battle Pass to progress further and unlock more rewards.
Fortnite Tracker have data-mined the files to uncover the following challenges that should be released for Season 4, Week 2 on Thursday: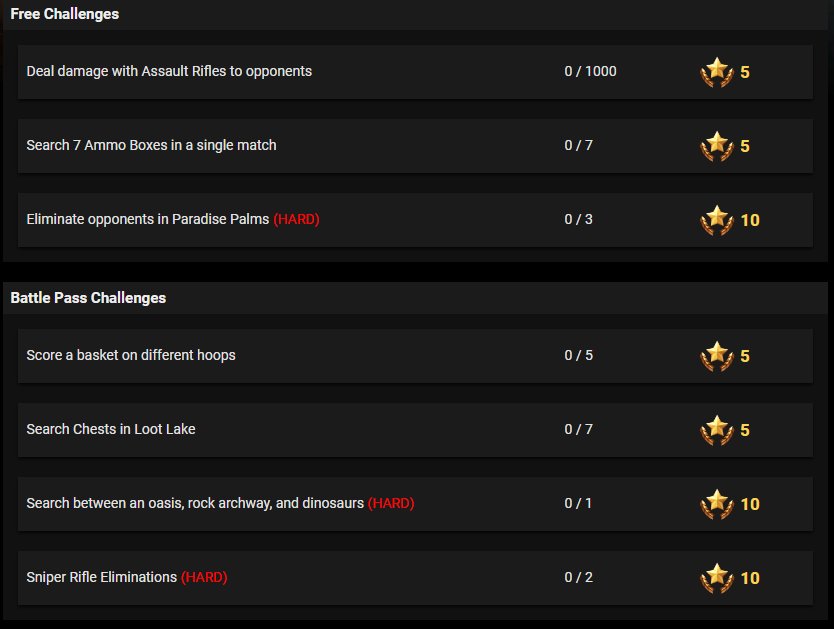 [sm-youtube-subscribe]
Free Challenges
Deal damage with Assault Rifles to opponents (1000)
Search 7 Ammo Boxes in a single match (7)
Eliminate opponents in Paradise Palms (HARD) (3)
Battle Pass Challenges
Score a basket on different hoops (5)
Search chests in Loot Lake (7)
Search between an oasis, rock archway and dinosaurs (HARD) (1)
Sniper Rifle Eliminations (HARD) (2)
A new addition to Fortnite was toys, which are only awarded to Battle Pass players by progressing through the Pass. It seems as though players will need to use the basketball to be complete one of the challenges for Week 2 of Season 5.
We see a classic 'search between…' challenge for this week and we will let you know the exact location of the star when the challenges go live on Thursday. The other challenges for this week are pretty straight forward and do not need any explanation.
NOTE: This information was found by data-miners, but it is possible that Epic could change the challenges from the ones mentioned above to something different. It has happened in the past, however only a couple of challenges were changed, if any at all.
We will be reporting on the official challenges as and when they are released on Thursday, along with some tips and a cheat sheet for all the challenges.
Cheat Sheet Map for Fortnite Battle Royale Season 5, Week 2 Challenges