The Season 5, Week 2 Challenges were unlocked a few hours later than usual and this could the new time it'll unlock every week in Season 5. Below is a cheat sheet created by The Squating Dog to help with all of the challenges in Season 5, Week 2.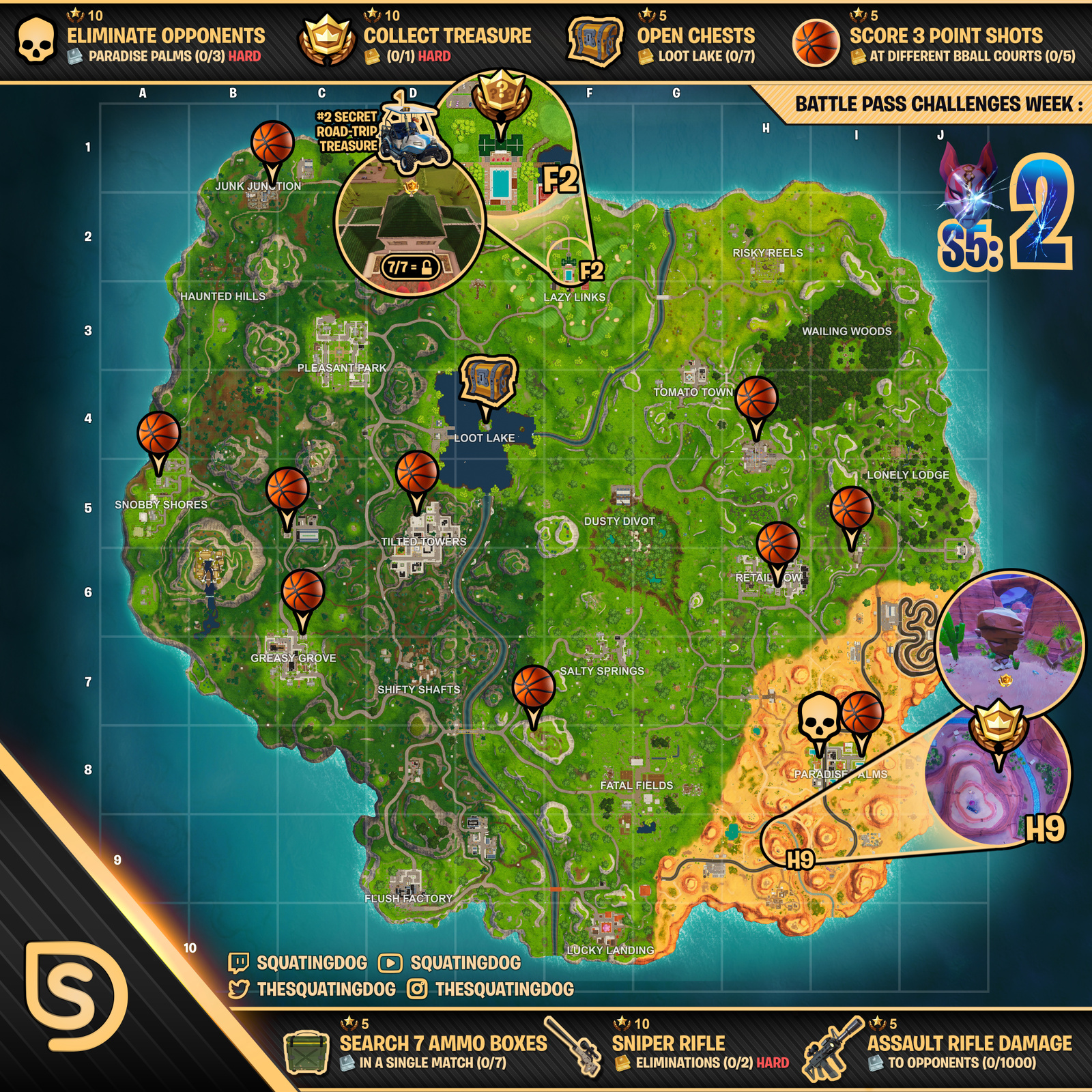 Season 5, Week 2 Challenges:
Free Challenges
Deal damage with Assault Rifles to opponents (1000)
Search 7 Ammo Boxes in a single match (7)
Eliminate opponents in Paradise Palms (HARD) (3)
Battle Pass Challenges
Score a basket on different hoops (5)
Search chests in Loot Lake (7)
Search between an oasis, rock archway and dinosaurs (HARD) (1)
Sniper Rifle Eliminations (HARD) (2)
[sm-youtube-subscribe]
The cheat sheet highlights all of the basketball hoop locations, the battle star for the Search between an Oasis, Rock Archway and Dinosaurs' Challenge, as well the the Road Trip #2 secret Battle Star
The Battle Star location for the Search between an Oasis, Rock Archway and Dinosaurs' Challenge is not on top of the mountain it's located next to, nor is it right at the bottom near the lake, so be careful when landing to try and complete the challenge, as if you drop down, you'll have to build up to get the Battle Star whilst being pick axed by everyone else trying to complete the challenge.
It might be worth waiting to search chests in Loot Lake as you'll find a lot of players landing there in order to complete the challenge as quickly as possible regardless of how close or far it is from the Battle Bus route.
We've created videos on how to complete some of the Season 5, Week 2 Challenges: