Here are all of the Epic Challenges for Week 12 of Fortnite Battle Royale.
Every week in Fortnite, new challenges are released on a weekly basis with the Legendary Challenges being released on a Wednesday and the Epic Challenges releasing a day later on Thursdays. The Legendary Challenge for Week 12 was released yesterday and you can see a detailed guide on how to complete each stage by clicking here. There are a total of seven Epic Challenges to complete for Week 12 of Fortnite and completing each challenge will award you with 30,000 XP.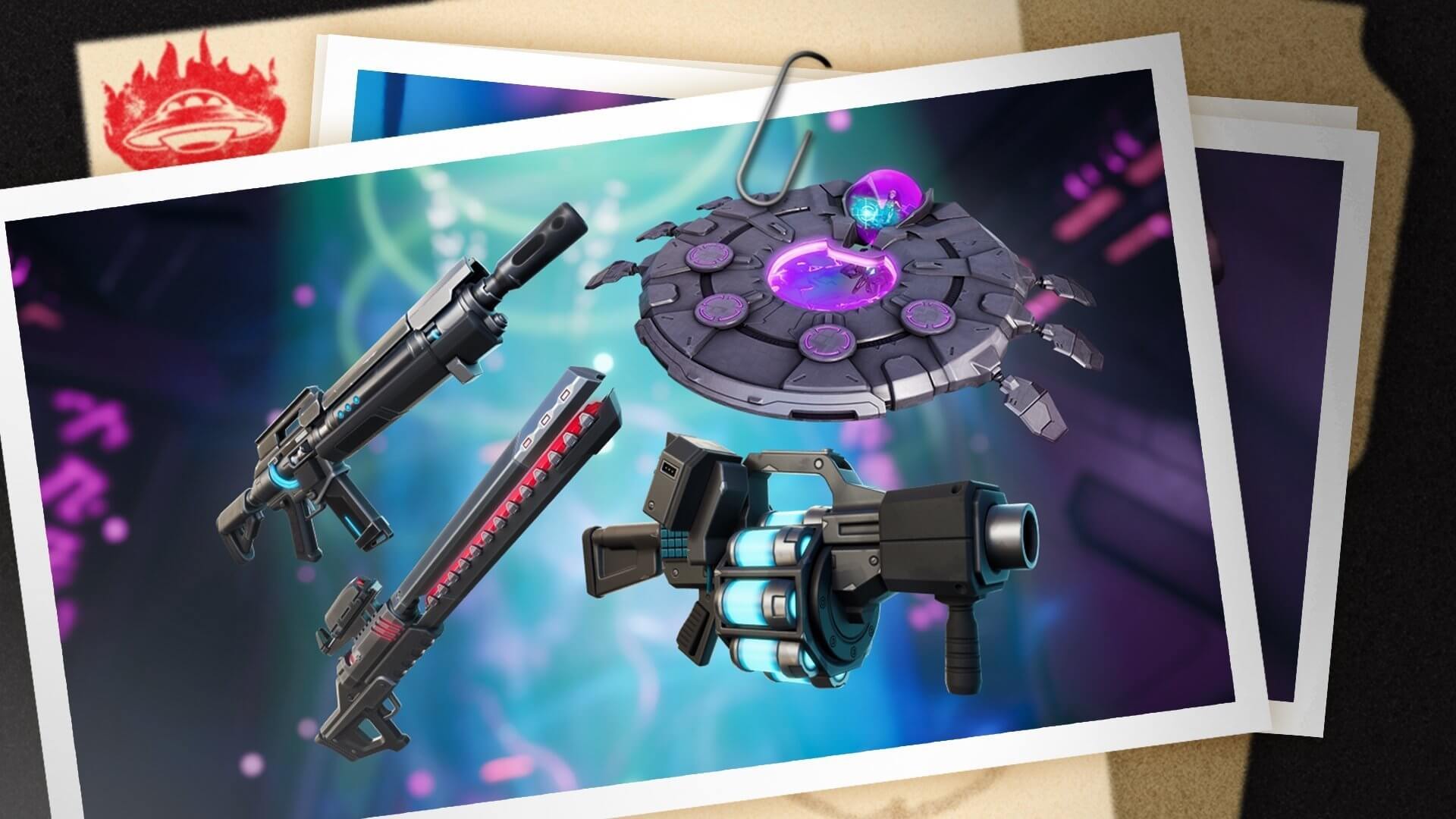 Fortnite Week 12 Challenges
Here are all of the Epic Challenges you need to complete for Week 12 of Fortnite:
Deal damage to Saucers piloted by opponents (300)
Deliver a Saucer to Rick Sanchez at Defiant Dish (1)
Deal damage to opponents with alien weapons (150)
Deal damage with an Alien Parasite attached (150)
Purchase from vending machines (3)
Search ammo boxes at Dirty Docks (5)
Hunt wildlife (3)
The challenges for this week are fairly straightforward and should be quite easy to complete. In order to complete the first challenge, you will need to rely on opponents flying Saucers around you but you can simply go a location in which you can find Saucers and simply shoot at it as soon as you see an opponent enter it. The best place to do this will be at the purple highlighted POIs which you can see at the start of each match.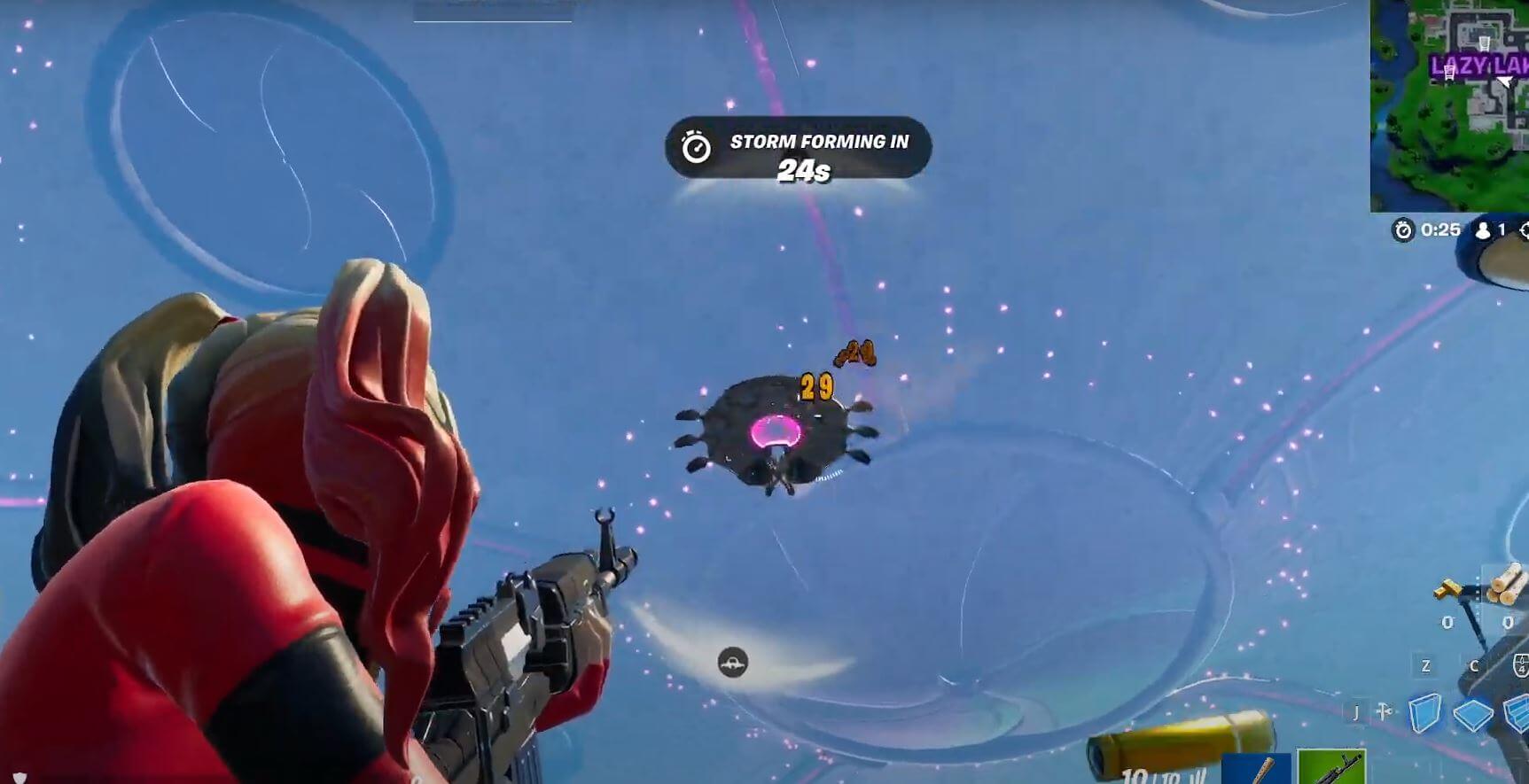 The second challenge is very simple as all you need to do is locate a Saucer and then fly it to Defiant Dish. Deviant Dish is not a named location but a landmark so it won's show up on the map, however is very easy to find. It can be found east of Weeping Woods, which has been marked in blue on the map below. You will also be able to find a Saucer where the player cursor is on the map. Once there, simply exit the Saucer and you will have completed the challenge.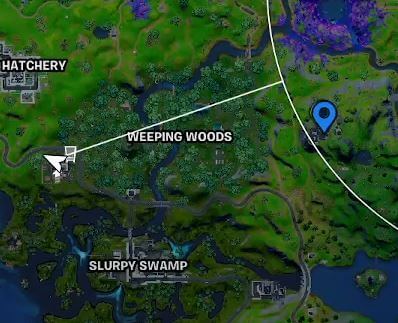 The third challenge is quite simple as you will need Alien Nanites. These can be found around the map but easily on the Mothership. In order to make an Alien weapon, you will need a gun of at least rare (blue) rarity. You will then need to use this weapon to deal damage to opponents and you will need to deal 150 damage to complete the challenge.
The next challenge is to deal damage with an Alien Parasite attached and you can find Alien Parasites at different locations of the map, one of them being Holly Hatchery. Simply find an Alien Parasite and then deal damage to opponents whilst having the Parasite on your head. Vending Machines can be easily found in many POIs and you will need to purchase weapons from these machines with gold bars. Simply purchase from three different machines in order to complete the challenge. Searching ammo boxes in Dirty Docks is very easy to do and you can find wildlife all over the map in order to complete the last challenge.